The Italian Mafia had two separate Crime Families in Boston in the early 1900's. One based in Boston, Massachusetts and the other based in Providence, Rhode Island. The Boston Faction was formed in 1916 by Gaspare Messina and the Providence Faction was formed in 1917 by Frank Morelli. The two families ended up merging together forming the New England Mafia also known as the Patriarca Crime Family. They had a seat on the Mafia's National Commission and were allied with other crime families such as New York's Five Families, The Chicago Outfit, New Jersey DeCavalcante Crime Family, The Philadelphia Crime Family and others.
Gaspare Messina is said to be Boston's first Italian mob boss and one of the founders of the New England Mafia beginning his reign in 1916. Shortly after marrying his wife in 1905 they immigrated from Sicily to New York. Messina lived in Brooklyn for 10 years, he opened a bakery and joined the local mafia that later became known as the Bonanno Crime Family. In 1915, Messina and his family moved to Boston where he opened a new bakery and by 1916 he was recognized as the local Mob Boss until stepping down in 1924 but remained an advisor to the family and Phil Buccola became the new boss. Messina died in 1957 at his home in Somerville, Massachusetts.
Filippo "Phil" Buccola was a Sicilian-American Mobster known as one of the founders of The New England Mafia. When federal authorities put a target on his back he decided to step down as Boss and handed over control of the family to Raymond Patriarca. Buccola moved from Sicily to the United States at the age of 32 and later joined the Boston Crime Family, founded in 1917 by Gaspare Messina. Buccola had ties to the original Cosa Nostra from his hometown Palermo, he rose during the Prohibition era quickly climbing the ranks of Bostons underworld and took over in 1924, after the death of Messina.
Frank "Butsey" Morelli was boss of a small crime family based in Providence, Rhode Island. In 1917, Morelli formed the Providence crime family. Morelli controlled bootlegging and gambling in Providence, Rhode Island, Maine and Connecticut. Morelli and his Brothers were allegedly responsible for a number of robberies. In 1932, Morelli merged his Providence Faction with Buccola's Boston Faction and became known as the New England Mafia with Morelli serving as the Underboss and Philip Buccola as the Boss. In 1950, Buccola fled the country to avoid prosecution for tax evasion, and Raymond Patriarca took control of his rackets. After retiring in the 1950's Buccola moved back to Sicily where he Died June 15, 1987.
Patriarca Era
Joseph "J.L." Lombardo was a Boston based mobster with the Patriarca Crime Family who served as one of Raymond Patriarca's Underbosses after merging the Boston and Providence Factions becoming known as New England Mafia. Lombardo began his rise to power during prohibition and was a rival of Irish Mobster and Boss of the Gustin Gang, Frank Wallace. Lombardo mentored Jerry Angiulo and his brothers who took over Lombardo's Boston rackets when he retired in 1955. Lombardo died of natural causes on July 17, 1969.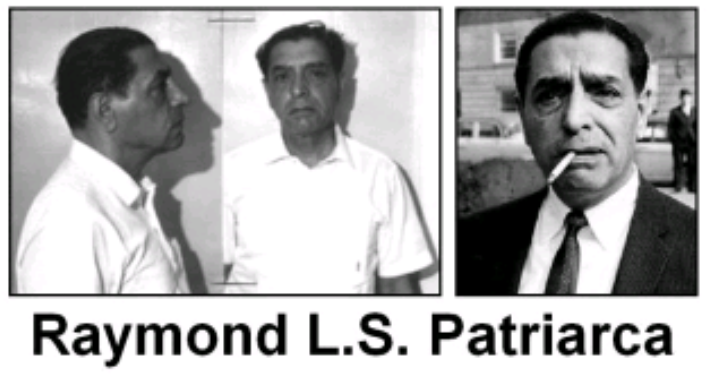 Raymond L. S. Patriarca was a mobster based in Providence, Rhode Island. Patriarca was born March 18, 1908 in Worcester, Massachusetts. He began his criminal career as a teenager being charged with hijacking, armed robbery, assault, safecracking, and auto theft. In the early 1930's he was charged with accessory to murder and in 1938 he was sentenced to five years in prison for robbery, but was paroled after serving just a few months. Patriarca continued his rise in power in the 1940's and In 1950, Philip Bruccola fled the country to avoid tax evasion charges, and Patriarca took control of his criminal operations. In the mid 1950's Patriarca made a lot of changes in the family, he moved his base of operations to Providence, Rhode Island. He ran his crime family from his Federal Hill Headquarters known as "The Office" and every illegal business in Providence had to pay a kickback to Patriarca. His control extended throughout New England, he was one of the most powerful mob bosses in the Country, and would help settle disputes between mob families. Patriarca was Boss of the New England Mafia for over 30 years until dying from a massive heart attack at the age of 76 on July 11, 1984. After the death of Raymond Patriarca Sr. the New England Mafia began to decline from both legal prosecution and internal violence. Jerry Angiulo was the family underboss until he was incarcerated, he attempted to take over as boss despite being in jail. However, the family's top lieutenant Ilario "Larry" Zannino backed Raymond Jr. for the position. The National Commission approved his leadership with the backing of the Gambino Family. After Raymond Jr. became recognized as the boss, Jerry Angiulo was demoted. Raymond Jr. was a weak leader compared to his father. He managed to keep the peace in his crime family due to the support of the Gambino Family. In 1987 Zannino was sentenced to 30 years in prison which further weakened Junior's position. With Zannino in jail, William "Wild Guy" Grasso became underboss but two years later in June 1989 Grasso was murdered by a Springfield, Massachusetts Gangster with ties to the Genovese crime family. After Zannino's murder, Nicholas Bianco took over the family's Providence operations. On March 26, 1990, Raymond Patriarca Jr., his underboss Nicholas Bianco, and 20 others were indicted on racketeering, extortion, narcotics, gambling, and murder charges. One of the most damaging pieces of evidence was a tape recording of a Mafia induction ceremony. Because of this embarrassment, Junior was replaced as boss by Bianco, who maintained a very low profile. However, in 1991, Bianco was sentenced to 11 years in prison where he died in 1994. On January 6, 1992, Raymond Patriarca Jr. was sentenced to eight years in prison after pleading guilty to racketeering charges. All other defendants in the RICO trial pleaded guilty and received large sentences and fines. In 1993, 26 others were indicted and convicted for running a bookmaking operation. After Raymond Jr. went to jail, Cadillac Frank Salemme took over the family and moved their base back to Boston.
Frank "Cadillac Frank" Salemme is a Boston-based Mobster who went from associate to hitman to Boss of the New England Mafia before becoming a government witness. Salemme was the first Boss of the New England Mafia who was not a made guy due to the fact that his mother was of Irish descent. In 1957 Salemme became friends with Patriarca family mobster Anthony Morelli while in prison. He started working with Morelli after his release from prison. Salemme quickly became a associate in the family earning the respect of Boss Raymond Patriarca due to his money making skills. In the early 1960s, Salemme participated in the Irish Gang Wars in Boston. Testifying before Congress in 2003, Salemme admitted to murdering numerous rival gang members, the Hugheses and the McLaughlins, they were all eliminated, and Salemme participated in almost all of them. In 1968, Salemme arranged the car bombing of John Fitzgerald, a lawyer representing Patriarca mob informant Joseph Barboza. The point of the attack was to scare Barboza into not testifying against Raymond Patriarca and other mob leaders.
Fitzgerald survived the attack, but lost his left leg. It was later established in testimony by several witnesses and confirmed by the U.S. House of Representatives Organized Crime unit investigation that Salemme was involved in the bombing, but did not carry it out. After the unsuccessful attack, Salemme went into hiding. He remained a fugitive until 1972, when he was captured by FBI agent John Connolly in Manhattan. He was convicted and sentenced to prison for 16 years. During the trial of retired FBI Agent John Connolly, Salemme denied murdering nightclub owner Steven DiSarro in 1994. Two years later, however, Steve Flemmi was immunized and told US Attorneys Fred Wyshak and Brian Kelly that he saw Salemme participate in the murder. Salemme went back to jail when he was finished testifying against Connolly, and there he bragged to a fellow inmate that the prosecutors had coached him to commit perjury and that he had committed so much perjury that he should be sentenced to jail for a hundred years. The inmate was an informant who wrote down his confession and it is memorialized in law enforcement reports . Instead of charging Salemme with the murder of DiSarro, Wyshak and Kelly merely charged him with perjury and obstruction. A secret plea bargain was struck and he was sentenced to little more than time already served. In 1986, family boss Jerry Angiulo had been sent to prison on racketeering charges, leaving a power vacuum in the Patriarca family. In previous years, Salemme had forged strong ties to Whitey Bulger and the mostly Irish Winter Hill Gang. Salemme was especially close to Bulger's lieutenant Steve Flemmi. In 1989, after his release from prison, Salemme attempted to gain control of the family. Patriarca caporegime Joseph Russo opposed Salemme's move, fearing the loss of his lucrative rackets. In June 1989, Angelo "Sonny" Mercurio, a Russo loyalist, lured Salemme to a meeting outside a IHOP in Saugus, Massachusetts. The gunmen then ambushed Salemme, wounding him in the chest and leg. The feud between Salemme and Russo continued until John Gotti, the boss of the New York Gambino crime family, brokered a peace agreement. Under the agreement, Salemme loyalist Nicholas Bianco became boss and Russo became consigliere. By 1991 Salemme, with the support of Bulger and Flemmi, had become the de facto boss of the Patriarca family. During the 1990s, at the urging of Frank Salemme, Jr., Frank, Sr. started extorting money from a film crew that wanted to avoid paying high salaries to union workers while filming in Boston and Providence, Rhode Island. As it turned out, the film crew was actually a FBI front. These events were highly fictionalized in the 2004 film The Last Shot. At the end of the operation, Frank, Sr. was arrested in Florida and charged with racketeering, crossing state lines for criminal activity, extortion, conspiracy, and loansharking.
"My Uncle William Winn was a member of the Winter Hill Gang and a Patriarca Associate who was also busted in the Dramex Sting along with Frank Salemme and others. He was arrested in 1992 and posted $250,000 cash bail. During the trial my uncle passed out in court and was sent to the hospital where he found out he was dying from brain cancer. He refused treatment because he wanted to die before going to jail and he did" -Robert Bailot Jr.
In January 1995, Salemme was indicted on racketeering charges along with Bulger and Flemmi. Salemme was convicted and sentenced to 11 years imprisonment. In 1999, while serving his racketeering sentence, Salemme learned that both Bulger and Flemmi were government informants, and that both men had provided information on Salemme to their FBI handlers. Salemme now he then agreed to provide the government with information on the FBI handling of Bulger and Flemmi. Salemme's testimony would help convict FBI agent Connolly, the same man who had arrested him 20 years earlier in New York. In 2003, in return for assisting the government, Salemme was released early from prison and brought into the Federal Witness Protection Program. Shortly after his release, Salemme appeared before a Congressional committee to testify on the Connolly case. In November 2004, Salemme was arrested for perjury during a federal investigation of the 1993 murder of nightclub owner Steve DiSarro. Prosecutors alleged that Frank Salamme, Jr., had strangled DiSarro in a Sharon, Massachusetts home and Frank Salemme had helped dispose of the body. However, Frank, Jr. had died in 1995 and Frank, Sr. denied any involvement in the murder. In July 2008, Salemme pleaded guilty to perjury and obstruction of justice and was sentenced to five years in prison. Since the plea deal gave Salemme credit for four years already served in prison, he was expected to be released in 2009 and entered the Witness Protection Program. As of August 2016, Salemme is in custody of the federal government on charges of murdering a witness. Court records said Salemme is charged with murder of a witness on May 10, 1993, which is the same date that Steven DiSarro was murdered by Salemme and his late son, Frank. Frank Salemme Sr. is now in his mid 80s and left his life as a Mob Boss decades ago. He testified against convicted former FBI agent John J. Connolly Jr. in 2002 and was in the federal witness protection program, living in Atlanta under the name Richard Parker, when he was arrested in 2016. He was taken into custody soon after DiSarro's remains were dug up from a Providence lot owned by one of DeLuca's friends. Salemme and Weadick will stand trial this spring.
Luigi "Baby Shacks" Manocchio was a mobster from Providence, Rhode Island, who became Boss of the New England Mafia. His criminal record goes back to the 1940s. In 1969 Manocchio was indicted for his role in the murders of Rudolph Marfeo and Anthony Melei. He fled to France, but later returned to the United States and lived in hiding for most of the 1970s in New York. In 1979 Manocchio turned himself in and pleaded guilty to lesser charges and was sentenced to 30 months in prison. In July 1996, Mannocchio and 43 others were indicted on burglary charges. Manocchio pleaded guilty and was sentenced to three years of probation. Manocchio was promoted to boss and ran the family from his Providence headquarters. On January 20, 2005, the FBI raided the Laborers' Union Providence office and the offices of Capital City Concrete in Cranston, Rhode Island, All part of a labor racketeering investigation in the Rhode Island construction business. Among those arrested in the Capital City raid was Matthew Guglielmetti, who was charged with money laundering and distribution of cocaine. On January 20, 2011, Manocchio was indicted on charges of extorting payments from the owners of the Cadillac Lounge and Satin Doll club, both adult entertainment establishments in Providence. Manocchio pleaded guilty and was sentenced to five and a half years in prison. In May 2015, Manocchio was allowed to serve the remainder of his sentence on house arrest. In November 2015, he finished his six months of house arrest and is said to be retired from mob activity.
In November, 2009, Manocchio reportedly gave control of the Patriarca family to mobster Peter Limone after he was released from prison. Peter Limone, was a Boston-based mobster who spent 33 years in prison for a murder he did not commit. Limone became active in the Patriarca crime family as a bookie and was an up-and-coming mobster before his imprisonment. In 1965, Edward "Teddy" Deegan was found murdered in Chelsea, Massachusetts. Limone was arrested at his Medford home. In 1968, Limone, Joseph Salvati, Henry Tameleo and Louis Greco were found guilty of murder after FBI informant Joseph Barboza pointed them out as the killers of Deegan. However, Barboza lied about this because he disliked the defendants and wanted to protect his friend and fellow hitman, "Jimmy the Bear" Vincent Flemmi, who was actually involved in the murder. Authorities had reason to believe the convicted men were innocent but protected Barboza. To cover Barboza's tracks the FBI, mainly under agent Paul Rico, set up the 4 men who would take the fall. All 4 of them were found guilty and all, except Salvati, were sentenced to death. That sentence was later overturned to a life sentence. In 2001, after serving 33 years, Limone was finally released from prison. When the FBI "discovered" new evidence dating back to the 1960's and became aware that Limone and the others had been framed. By the time the FBI realized that men were innocent, two of them had already died in prison. After the only two surviving men, Salvati and Limone, were released the FBI apologized to them and had to pay a total of $102 million to them and the families of Henry Tameleo and Louis Greco. Limone was given $26 million. Although having gained such immense wealth, Limone once again became involved with the Patriarca crime family's Boston faction as he waited for his check in the mail. He refused to retire and end his association with the Patriarca organization, which had helped him and his family throughout the years he was locked away.
After his release, Limone became the Consigliere of the family and in 2009 took over the crime family after boss Luigi Manocchio retired, effectively transferring the base of the crime family from Providence, Rhode Island back to Boston. Rhode Island capo Robert DeLuca was said to be his underboss. In July 2010, Limone pleaded nο contest tο charges οf loan sharking, extortion аnd for running at least four illegal gambling parlors in Middlesex that netted hundreds of thousands of dollars. His sports and horse betting racket had an office in Boynton Beach, Florida that kept records of customers identified by code names. He wаѕ sentenced tο 5 years probation, ordered tο wear a GPS bracelet whіlе οn probation аnd tο avoid contact wіth mafia associates. Anthony DiNunzio served as Limone's acting boss until DiNunzio was sentenced to six years in prison in 2012. Limone died June 19, 2017.
DiNunzio Brothers
Anthony DiNunzio is a mobster who was Boss of the Patriarca crime family, he is the younger brother of Carmen DiNunzio who is said to be the current Boss. Anthony was arrested on April 25, 2012 and charged with racketeering and extortion. On September 13, 2012, DiNunzio plead guilty to shaking down Rhode Island strip clubs, and was sentenced to six years in prison on November 14, 2012. After DiNunzio was jaile, Anthony "Spucky" Spagnolo became Acting Boss of the Patriarca Crime Families Boston faction. Spucky was Boss until he was arrested on October 2, 2014. In 2015 after serving 6 years In Prison Carmen DiNunzio took back control of the family. Spagnolo's mentor was Patriarca Consiglieri Joseph "J.R." Russo. Spagnolo and J.R. Russo's step brother, Robert "Bobby Russo" Corrozza made collections for J.R. Russo. Spucky is a convicted drug dealer and racketeer. In the early 1980s Spagnolo was sponsored by Russo to become a made guy in the Patriarca family. His arrest record dates back to the 1950s, with charges ranging from drug trafficking, armed robbery and racketeering. In February 1976 Spagnolo traveled to California with Russo to murder New England Mobster turned government witness Joe "The Animal" Barboza. Spagnolo was the getaway driver while Russo shot Barboza to death in San Francisco where Barboza was living after leaving the witness protection program. In October 1985 Spucky's name came up in the murder investigation of Jimmy Limoli. Limoli allegedly angered his superiors in the mob by operating drug rip-off scams and was said to have stolen $100,000 worth of cocaine from Spagnolo. Spagnolo went to Limoli's capo Vincent Ferrara and complained about Limoli boosting his coke and attended numerous sit-downs to try to resolve the issue. In October 2014, Spagnolo and fellow mobster Pryce Quintina were indicted on charges of extortion based on collecting thousands of dollars of protection money from Boston-area Constitution Vending and the Revere Moose Lodge, a local social club. According to the FBI, Spagnolo instructed Quintina to shake down Constitution Vending and the Revere Moose Lodge, where Constitution had several video poker machines for at least $50,000 in an eight-year period from 2004 to 2012. When one of the men that ran the Revere Moose Lodge decided to try to remove the machines provided by Constitution Vending and replace them with machines from another vending company, he was called to a meeting with Spagnolo and Spagnolo threatened him with violence. After a rival vending company contacted the Revere Moose Lodge and attempting to persuade them to use their machines, instead of Constitution Vending's, the owner of the company was approached by Spagnolo and was also threatened. It is currently unclear what role if any Spagnolo has with the family.
Carmen "The Cheeseman" DiNunzio, A Boston-based mobster who became Boss of the New England Mafia is believed to be the current boss or acting boss. Carmen became the Underboss in 2009, and his brother Anthony DiNunzio was named acting boss when Peter Limone was arrested. Anthony remained in control of the family until his arrest in 2012. Carmen DiNunzio ran the family from his Cheese Shop in Boston's North End which is how he got his nicknames "The Cheesman" and also "The Big Cheese" due to his enormous size. In 2005, he accidentally hit and killed a teenage girl who walked in front of his car but was not at fault because the girl cut in front of his car while the light was green. In 2008 he was arresred for corruption charges, he pleaded guilty in 2009 and was sentenced to 6 years in prison. When Carmen was released from prison in 2015 he took back control of the Patriarca Crime Families Boston faction. Some say Rhode Island mobster Matthew Guglielmetti is serving as Underboss since his 2014 release from prison. Anthony DiNunzio was released from federal prison February 22, 2018 and is on three years supervised release. It is currently unclear what role he will take in the Crime Family. There are many stories going around about the current 2018 hierarchy of the New England Mafia so as of now it remains to be seen who has what position but if you follow Me on National Crime Syndicate and my group Omerta Social Club we will keep everyone posted. -Robert Bailot Jr.