Just like John Gotti, Joe Colombo, the Colombo Crime Boss enjoyed the media. Albeit in a slightly different role to that of Gotti, as Colombo appeared on interviews, at fundraising events and conferences where he was a key speaker.
In 1970 Colombo created a Civil Rights League called the Italian-American Civil Rights League. It was a political group dedicated to combat pejorative stereotypes about Italian-Americans and was very successful.
There were probably a couple of instances that lead to the downfall of Colombo, first we begin with the Godfather Movie.
The Godfather
For those who don't know, Paramount Pictures worked with Colombo and saught his assistance in making the film, he was given all the scripts and advised the film producers to remove any mention of La Cosa Nostra and Mafia from it. With the spotlight he was already getting from the media, and his role as family crime boss, other families were growing concerned.
Joey Gallo
The alleged man behind the Albert Anastasia hit back in October 1957 also may have played a part in setting up the assassination of Colombo. Back in the 60's there were wars between the Gallo brothers and Colombo/Profaci leadership. Gallo wanted more profit share and kidnapped Profaci and Colombo. Joe Gallo was released from prison in 1971 after being sentenced for 10 years on extortion and conspiracy charges, upon leaving prison he was offered a $1,000 peace offering from Colombo. Gallo refused to accept it, and a contract was put on Gallo's head by acting Colombo boss Vincenzo Aloi.
Joe Colombo Death
On June 28 of 1971, there was a Rally in Columbus Circle for Colombo's Cicil Rights League (which grew to some 100,000 members).
As Joe was about to take the stage to address the crowds, Jerome A. Johnson, a gunman posing as a photographer stepped towards Colombo and a point blank range shot him 3 times in the head.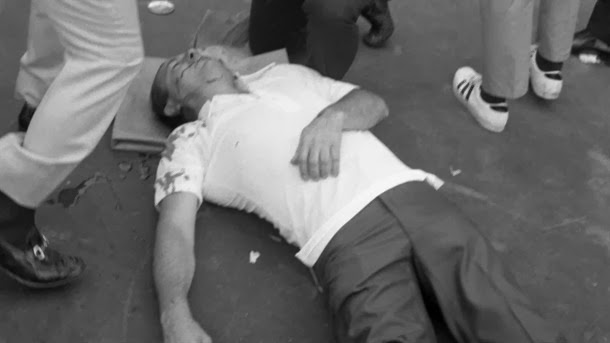 Johnson was then shot himself by what was presumed to be a Colombo bodyguard.
Colombo was then put on a stretcher and taken to hospital.
Although Colombo didn't die at the scene he was left in a coma for the next 7 years, eventually dying in 1978. The league he has created that gained over 100,000 members disappeared in the year following the 1971 shooting.
The most common belief on who killed Joe Colombo is that a contract was put on his head by a Commission Vote from other families who thought he was getting too much limelight, and pushing the Mafia to far into the public eye.
The Godfather movie was eventually released the year after the shooting in 1972.