Whether its a mob hit from the 1920's or one as early as the 2000's its interesting to know what happened to some of the more famous places where mobsters drew their final breath. We take you through 13 (unlucky for some) of the most prominent Mafia killings from the last century.
---
1. Park Central Hotel: 870 Seventh Avenue, New York.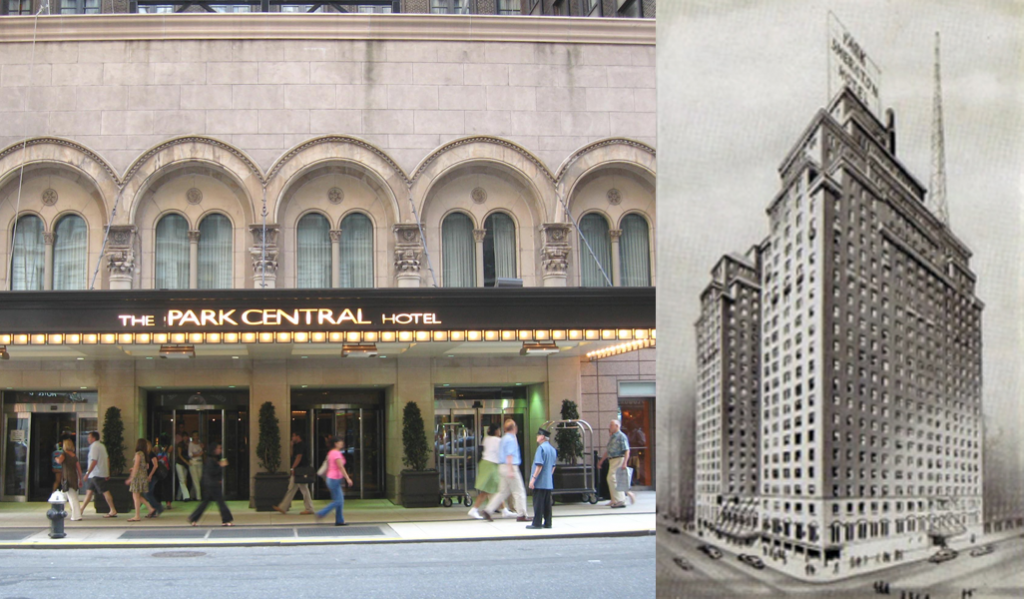 Albert Anastasia was in a barbers chair at the Park Sheraton Hotel on 870 7th Avenue.
Strangely his bodyguard took a walk (whether Anastasia knew this or not is unclear, was he in on the hit, or was it genuine). Out of nowhere two men rushed the shop in scarves and rang out a tirade of bullets at Anastasia as he sat there. Anastasia got up out of the chair and charged at the men, unfortunately what he saw in the moment of panic and confusion was the reflection of the men in the Barber's mirror.
What Happened to the Building?
It was renamed to the Park Central Hotel in the 1990's after many name changes. It first changed its name from the Sheraton in the 1970's.
---
2. The Half Moon Hotel: Coney Island, Brooklyn.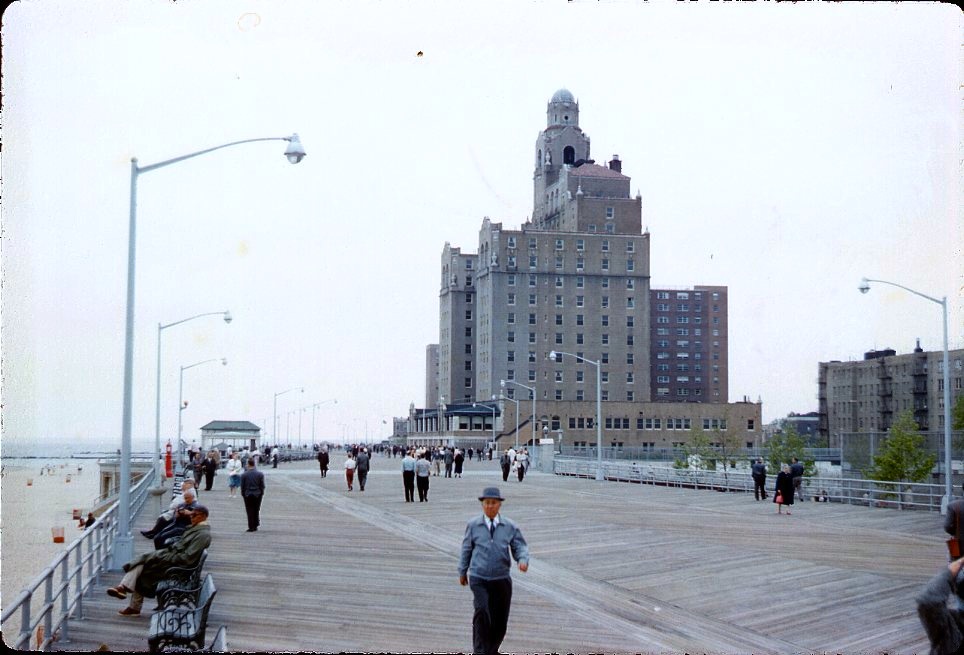 At the time of Abe's death he was meant to be under FBI protection, but with Abe about to give information to the FBI on Albert Anastasia (who would have gone the same way as Lepke and co), something had to be done.
Reles was pushed from a window at the Half-Moon Hotel, room 623. With no evidence of who killed him, charges were dropped and it was put down to accidental death.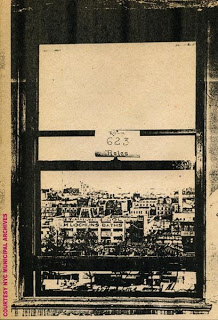 What Happened to the Building?
The building was demolished in 1995.
---
3. Rao's Restaurant: 455 E. 114 Street, New York.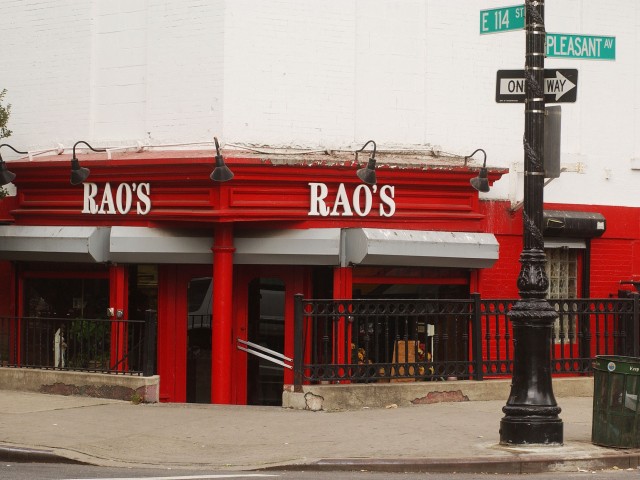 This exclusive restaurant has seen bodies in suitcases turn up down the block, and was the infamous scene of the murder of Albert Circelli.
A few days before Christmas in 2003, Circelli was heckling Broadway actress Rena Strober's performance. Louis Barone told him to have some respect, Circelli didn't, so Barone took out his .38 and shot Circelli in the back.
What Happened to the Building?
Rao's is very much still open for business as usual.
---
4. Sparks Steakhouse: 210 E 46th Street, Manhattan.

Thomas Bilotti, Big Paul's bodyguard drove Castellano to the prearranged meeting at the Sparks Steak House in Midtown Manhattan on the evening of 16th December, 1985.
A hit team prepared by Gotti were waiting near the restaurant entrance, they included Gambino soldiers by the names of Vincent Artuso, Salvatore Scala, Edward Lino, John Carneglia and possibly Leonard DiMaria. Just a few yards away were another team of backup shooters which included Dominick Pizzonia, Angelo Ruggiero and Anthony Rampino.
The gunmen ran up to the car as both men were getting out, and shot them several times. John Carneglia was the gunman who actually shot Castellano in the head, delivering the fatal hit.
What Happened to the Building?
Not much has changed in 30 years, the restaurant stills stands here.
---
5. Columbus Circle: 59th Street and Broadway
On June 28 of 1971, there was a Rally in Columbus Circle for Joe Colombo's Civil Rights League (which grew to some 100,000 members).
As Joe was about to take the stage to address the crowds, Jerome A. Johnson, a gunman posing as a photographer stepped towards Colombo and a point blank range shot him 3 times in the head.
Johnson was then shot himself by what was presumed to be a Colombo bodyguard. Colombo was then put on a stretcher and taken to hospital.
Although Colombo didn't die at the scene he was left in a coma for the next 7 years, eventually dying in 1978.
What Happened to the area?
The area has remained untouched for nearly a century.
---
6. Umbertos Clam House: 132 Mulberry St, New York.
The date was April 7th, 1972. Mobster Joey Gallo was celebrating his 43rd birthday with his family, at Umberto's Clam House, located in Little Italy. The time was 4:30am. Four gunmen rush into the restaurant and fire off over 20 shots from 32 and 38 revolvers at Gallo's table.
Gallo was fatally wounded in the attack and got hit in the back, arm, and leg. He overtuned a table and made it to the door of the Clam House in order to draw fire away from his family. Gallo collapsed on the street outside and died later in Hospital.
What Happened to the Building?
In 1999 the restaurant was closed due to lack of funds and the building was sold. It was reopened in 2000 in a new location, a few spots north of the original site (from 129 to 132 Mulberry Street). Today, the space formerly occupied by Umberto Clam House is occupied by the Italian restaurant Da Gennaro (thanks to one of our Facebook members and former employee, Giuseppe Pezzullo, for pointing this out for us.
---
7. Nuova Villa Tammaro: 2715 West 15th Street, Coney Island.

Joe The Boss, his bodyguards, and Lucky Luciano all met at a seafood restaurant at 3pm on April 15th 1931. The restaurant was one that Masseria visited on numerous occasions, and it was called the Nuova Villa Tammaro, on Coney Island.
Luciano excused himself from a card game they were playing to visit the bathroom. This was the signal for the hitmen to come in and finish off the boss.
What Happened to the Building?
Today, the Villa Tammaro is occupied by Banner Smoked Fish, and it is located on 2715 West 15th Street.
---
8. S.M.C Cartage Company: 2122 North Clark Street, Chicago.

The bricks from the bullet-marked inside North wall were purchased and saved by Canadian businessman George Patey in 1967. In 1978, Time reported that Patey reassembled the wall and put it on display in a wax museum as a backdrop for gun-wielding gangsters shooting each other to the accompaniment of recorded gunshots. The wax museum later went bankrupt.
The last known substantial offer for the entire wall was made by a Las Vegas casino but Patey refused the $175,000 offer.
In 1999, Patey tried to sell them brick by brick on his own website and sold about one hundred to gangster buffs. These came with signed certificates by Patey. Patey died December 26, 2004, having never revealed how much he paid for the bricks at auction.
The remaining bricks of his massacre wall were given as an inheritance to his niece who sold them to the Mob Museum in Las Vegas, which opened February 14, 2012. While the wall is no longer complete because of Patey's sale of some bricks, it still remains the original massacre wall against which the seven men were lined up and killed by Capone-hired killers.
What Happened to the Building?
The garage, which stood at 2122 N. Clark Street, was demolished in 1967.
---
9. Joe and Mary's Italian Restaurant: 205 Knickerbocker Ave,. Bushwick, Brooklyn.

On July 12, 1979, Carmine Galante was assassinated just as he finished eating lunch on an open patio at Joe and Mary's Italian-American Restaurant in Brooklyn.
Sitting at the meal with Galante was a Bonanno capo, restaurant owner, a Bonanno soldier, and Galante's Sicilian bodyguards, Baldassare Amato and Cesare Bonventre. I should point out at this point that his bodyguards did nothing to help him, they simply walked out unharmed after the hit, so suspicion grew that his own crime family were in on the hit against him.
What Happened to the Building?
The building is now boarded up and abandoned.
---
10. The Palace Chophouse Restaurant: 12 E. Park St., Newark, New Jersey.
After Dutch Schultz disobeyed the Commission and attempted to carry out the hit himself, they ordered his murder in 1935. He was shot once, below the heart in the bathroom of the Palace Chophouse restaurant but staggered out and sat at a table (not wanting to die in the bathroom). The hit was carried out by Murder Inc members (Charles Workman and Mendy Weiss, acting on orders from Lepke Buchalter).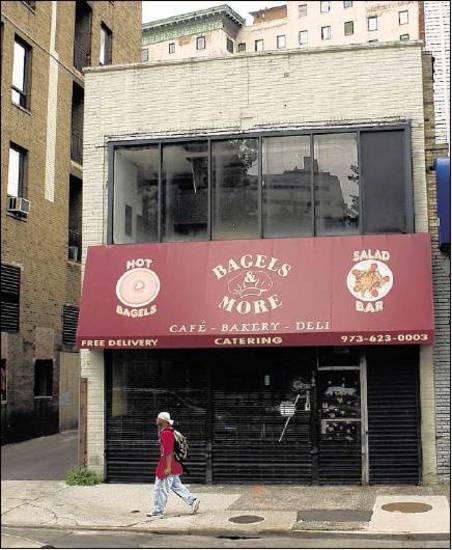 What Happened to the Building?
The building is currently under talks of being demolished by its current owner.
---
11. William F. Scholfield's Flower Shop: 738 North State Street, Chicago.

On November the 3rd 1924 O'Banion sat in with Al Capone and other notorious bosses Frank Nitti, Frank Rio and others to tally the week's profits. It was mentioned that Angelo Genna had dropped a large amount of cash, plus a sizeable marker. Capone recommended that they cancel the marker as a professional courtesy. O'Banion, instead, got Genna on the telephone and demanded that he pay his debt within a week. With this personal insult, Angelo Genna and his family could no longer be restrained, O Banion ha inadvertently signed his own death warrant
Frankie Yale, and other gangsters visited Schofield's, O'Banion's flower shop, to discuss floral arrangements. However, the real purpose of these visits was to memorize the store layout for the hit on O'Banion.
On the evening of November 9, he got a special order by telephone for a custom wreath to be picked up the following morning.
On the morning of November 10, 1924, O'Banion was clipping chrysanthemums in Schofield's back room. Unfortunately for O'Banion, Louis Alterie, his bodyguard is hung over and does not make it to the flower shop that morning. Yale entered the shop with Torrio and Capone's gunmen John Scalise and Albert Anselmi. "Hello, boys" greeted O'Banion, "You from Mike Merlo's?" The man in the middle, Yale nodded and returned O'Banions handshake in a clasped death grip. At the same time, Scalise and Anselmi fired two bullets into O'Banion's chest, two in his cheeks, and two in his throat.
What Happened to the Building?
The shop was demolished in 1960 and the area was turned into a parking lot, next to the Holy Name Cathedral.
---
12. Holy Name Cathedral: 730 N Wabash Ave., Chicago.
In the fall of 1926, Capone sent his best hitmen to the Hymie Weiss headquarters on State Street, Chicago. Two gunmen hiding in nearby rooming house opened fire with a sub-machine gun and shotgun at Weiss, and his 3 associates.
Weiss was fatally hit and began to fall onto the sidewalk, as he did a confused bodyguard, Sam Pellar, drew his .38 and fired off shots in the general direction of shooters. However, in the blind panic he accidentally shot an already fatally wounded Weiss on his way down to the sidewalk.
Some bullets even chipped the cornerstone of the Holy Name Cathedral directly across the street, as Capone gunmen went all out to leave nobody standing.
What Happened to the Building?
The Holy Name Cathedral still stands.
---
13. Avenue Recreation Bowling Alley: 805 N. Milwaukee Ave., Chicago.
McGurn who was working for the Chicago Outfit as a lieutenant at the time, and got Al Capone's financial backing and he orchestrated the hit by drawing up a plan of action, as well as stealing two police uniforms and a car!
The time of his death raises a lot of conspiracy as he was machine-gunned down by three hitmen who were said to be North Side Gang members who were acting in retaliation for the St Valentine's Day Massacre of 1929. One of the gunmen is believed to have been James Gusenberg who was the brother of Frank and Pete.
McGurn was in a bowling alley which was located on 805 N. Milwaukee Avenue in Chicago. Three hitmen stormed the building and rushed up to the second floor and they each fired machine-guns at him, at close range.
What Happened to the Building?
Today a furniture supply store sits where the bowling alley used to be.