For many years, mobsters met at steakhouses and various other restaurants around the cities that they ran, and more often than not, it would be their final meal before they were gunned down in the very restaurant with who they were dining within.
Nuovoa Villa Tammaro Restaurant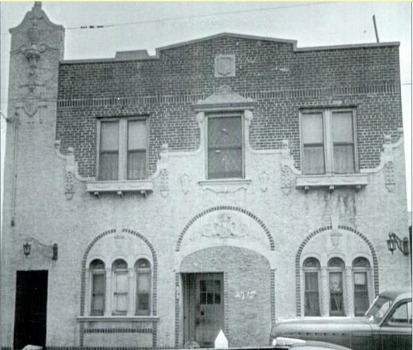 2715 W 15th St, Coney Island – April 15th 1933
Giuseppe "Joe the Boss" Masseria's favorite restaurant was Nuovoa, it was a hit for lovers of seafood, on the 15th April, Masseria the father of nine, showed up to join Charles 'Lucky' Luciano for a session of drinking, playing cards and dining.
Luciano, excused himself from the table to go to the bathroom, during this time, two mob rivals opened fire.
Masseria was found lying on the ground, with a bloody ace of spades clenched in his right hand.
The eatery was closed down and is now the site of the Banner smoked Fish Company.
---
---
Umberto's Clam House
132 Mulberry St, Little Italy, Manhattan – April 7th 1972
Crazy Joe Gallo definitely had one hell of a birthday present in the form of an assassination.
He was dining for his birthday with his sister, Carmella Fiorello; his new wife, Sina Essary, and her 10-year-old daughter, Lisa, who had become Joey's new stepdaughter; as well as his bodyguard, Peter "Pete The Greek" Diapoulas, and Pete's companion, Edith Russo.
Joey was having his second helping of the restaurants dish of shrimp and scungilli salad, when four gunmen entered the eatery and began firing, a table was flipped to shield Gallos wife and daughter, Diapoulas, who was wounded, returned fire, but missed as the gunmen fled the scene
Severely wounded Gallo stumbled to the door of the restaurant cursing the fleeing gunmen, before falling to the floor of the street in a puddle of blood, the first time in history that the mob had shot and killed a mobster in front of their wife and children.
The restaurant eventually closed down and is now another Italian restaurant Da Gennaro.
---
Joe and Marys Italian Restaurant
205 Knickerbocker Ave, Bushwick – July 12th 1979
Carmillo "Carmine" Galante nicknamed 'Lilo' Italian for 'Cigar' rose to be the head of the Bonanno family, he became a target of the mob due to the fact that he wanted to become 'Bosses of all Bosses' and wasn't afraid to knock off his rivals to do so.
Accompanying him for his dining out with Leonard Coppola and restaurant owner/cousin Giuseppe Turano at the Italian restaurant were his two bodyguards, Baldassare Amato and Cesare Bonventre.
Three ski-masked men entered and opened fire with a shotgun and handguns, leaving Galante and his two companions dead, though interestingly and curiously enough Amato and Bonventre emerged unscathed.
Galante was found with an eye shot out, lying crumpled on the ground, a cigar still stuck in his mouth.
The Italian restaurant is now a Mexican eatery, called Taqueria La Asuncion.
---
Sparks Steakhouse
210 E 46th St, Midtown Manhattan – December 15th 1985
Paul Castellano and his bodyguard Thomas Bilotti had just come from their lawyer's office, the pulled up outside directly in front of the restaurant, and soon found themselves surrounded both sides of the car, four men unleashed a barrage of shots, Castellano was hit a dozen times, Bilotti was hit four times and collapsed on the pavement, both were dead when the cops arrived.
It was the work of John Gotti and his crony, Sammy "The Bull" Gravano who had hatched the plan, two weeks prior to the killings.
Sparks is still open for business, servings its impressive steaks and is a dedicated tourist spot for Mafia enthusiasts
---
The Palace Chop House
12 East Park Street, Newark, New Jersey – October 23rd 1935
The Palace Chophouse and Tavern in Newark was Dutch Schultz headquarters, and one that he hasn't been using for long. The chophouse was located on 12 East Park Street, and on the evening of October 23rd, 1935 Schultz and his men were in attendance at the tavern, dining and talking business.
At around 10:15 p.m. in the evening, Dutch Schultz was shot in the men's room. He staggered out to the main area of the restaurant, eventually sitting down at a table before being transported to hospital where he would die the following day.
The building is currently under talks of being demolished by its current owner.
---
Joe's Elbow Room Restaurant
793 Palisade Avenue, Cliffside Park, New Jersey – October 4th 1951
On the morning of October 4th, 1951 Willie Moretti drive to Joe's Elbow Room Restaurant, upon entering the restaurant he shook hands with one mobster, and then was greeted by another 3 inside the restaurant sitting down at a table.
Unfortunately for Willie he wouldn't get to eat there on that day, he only made it to the menu before he was gunned down at 11:25am. They killed him with respect because it was to be seen as an act of pity due to his failing health and memory.
The restaurant is now an upscale Italian restaurant, called the Villa Amalfi.
---
Colosimo's Restaurant
2126 – 2128 South Wabash, Chicago – May 11th 1920
Big Jim Colosimo was a major player in the Mustache Pete era of the mob before Prohibition came into force. He opened up his own restaurant called Colosimo's in 1910, and it quickly became a popular destination for prominent Chicagoans and visitors to Chicago. It was also here that he came to his fateful end, thanks to a bullet in the back of the head.
At some time in the afternoon of May 11, 1920 Big Jim returned to his restaurant expecting a delivery. Instead one of Johnny Torrio's men ambushed him and took him out, making way for a new era of leadership within the Chicago Outfit.
Even though he was assassinated in 1920, the cafe was still open for another 35-40 years, running under the same name.
Today, the area is a car park.
---
Neopolitan Noodle Restaurant
East 79th Street, Manhattan – August 11th 1972
This case was a case of mistaken identity two innocent meat wholesalers fatally gunned down in front of their wives and friends.
Sheldon Epstein and Max Tekelch had sat down in the eatery for a meal with their wives and friends, however, the seats had just been vacated by four Colombo crime family gangsters each were all targets by loyalists to Crazy Joe Gallo who had been fatally gunned down months earlier.
The hit men entered the restaurant, took a seat at the bar and ordered a scotch and water, coolly surveying the scene for five minutes, when those minutes were up, he stood to his feet and pulled out a .38 calibre revolver and opened fire…on the wrong targets.
The restaurant closed down and is now an Albanian mission.
---
Rao's Restaurant
455 E 114th St, East Harlem – December 29th 2003
The doors of this pleasant eatery opened in 1896, dinner reservations here were very hard to come by, if you didn't book well in advance, you weren't getting in.
On December 29th the place was full to the brim, bartender Nicky the Vast was pouring the drinks, and Broadway actress and singer Rena Strober was due to perform.
Albert Circelli a Lucchese solider rudely heckled Strober, shouting
"Ah, Shut up, Get her off, She sucks"
Louis Barone, another wise guy held his index finger to his lips to Shush Circelli, in response, Circelli replied
'I'll open up your hole, I'll fuck you in the ass'.
Enraged by this, Barone felt he had no choice other than to pull out the revolver he had smuggled within his jacket and fire once into Circelli's back, ending his mobster run.
Barone pleaded to reduced charges and accepted a 15 year prison sentence.
Rao's is still open and still finds itself full to the brim, making it still as difficult to book a reservation.
---
Latest posts by Hayley Dean
(see all)