Finding a list of lavish properties proved to be as difficult as I thought, as Tony Accardo told his boys, to keep low level and below the radar. I have chosen these ten with the help of Rob Bailot Jr. who has also provided the pictures for this piece, thanks Rob.
---
l. Al Capone's Florida Mansion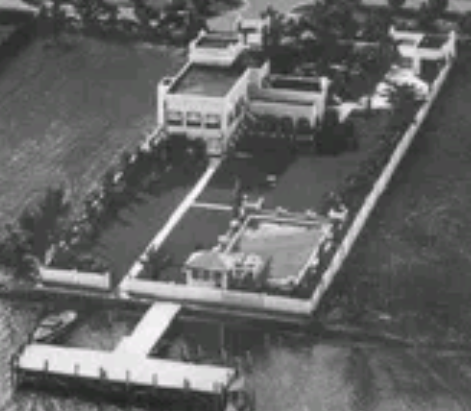 Bought For $40,000 in 1923
Now Worth $15,000,000
This is the Capone mansion, which he bought in 1923 for $40,000. It is estimated today to be worth $15 million. This is also the place where it said that Capone planned the St. Valentine's day massacre. Sadly, it was also where Capone passed away, due to syphilis, years later.
---
2. Paul Castellano's Staten Island Mansion
Sold For $5,000,000
Paul Castellano's Staten island mansion which his wife sold for $5 million after his death. Castellano became boss of the Gambino's after the death in 1976 of Carlo Gambino. Castellano spent a lot of his time at the mansion known as
'The White House'. Gloria Olarte, his maid and lover, was turned and placed a bug in the kitchen. 600 hours of Gambino family business that bug recorded.
---
3. Tony Accardo's River Forest Mansion
Now Worth $2,000,000
Chicago outfit boss, Tony Accardo's, mansion in River Forest is worth over $2 million today. He lived here from 1951 – '63. Accardo took his own advice about keeping a low profile and moved to a less grand ranch style house in River Forest. Accardo never spent a night in jail and died of natural causes at the age of 86.
---
4. Albert Anastasia's New Jersey Mansion
Sold For $5,000,000 in 2016
Albert Anastasia's New Jersey Italiante-styled mansion that he had built in the 1940's. The 25-room mansion was sold in 2016 for $5 million. Anastasia chose the site for its sweeping views of Manhattan. Albert was killed in 1957 and after his murder Del Webb, the NY Yankees co-owner, bought the estate which was the purchased by the comedian Buddy Hackett.
---
5. Vito Genovese's Mansion
Now Worth $2,500,000
Vito Genovese's house he bought in 1935, today's value is approx. $2.5 million. Genovese's rise to power took place during the Castellammarese war. Vito was head of the Genovese family from 1957 until his death in '69. The Genovese family, one of the 'Five Families' that dominated NYC. He was known as the Boss of Bosses from 1957- '59.
---
6. Vito Rizzuto's Canadian Mansion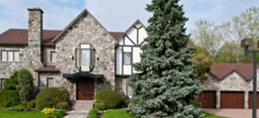 Worth $2,000,000
Montreal mob boss Vito Rizzuto's house on Mafia Row, Canada is worth around the $2 million mark. While he was behind bars there was a string of deaths in the Rizzuto family including his father, Nicolo Sr., and his son, Nick Jr. The Mob boss returned to Canada in 2012 and died of natural causes on Dec. 23, 2013.
---
7. Carlo Gambino's Long Island Mansion
Worth $3,000,000
Carlo Gambino's Long Island house worth approx. $3 million, This Long Island residence which is located at 34 Club Drive in Massapequa was used by Gambino as his summer vacation home. He also maintained the house located next door so that his bodyguard could live there. Carlo Gambino died of natural causes here on October 15, 1976.
---
8. Joey Merlino's Florida Mansion
Worth $1,000,000
Philly mob boss Joey Merlino's house in Boca Raton, Florida around the $1 million-mark value wise. The property is owned by the CEO of the company that Joey works for as a carpet fitter. While Joey was in jail, cocaine dealer, Billy Rinnick, was found during a police raid hiding under Joey's wife Deborah's bed. Close friends of Deborah denied anything was going on with the now convicted murderer.
---
9. Sonny Franzese's Long Island Mansion
Worth $3,000,000
Colombo crime family underboss Sonny Franzese's Long Island residence approx. worth $3 million. Sonny Franzese was one of the last of from the prime time of the mafia. Controlling most of the bars and nightclubs on Long Island Sonny was also the muscle behind successful record labels, he also invested into films such as The Texas Chainsaw Massacre and Deep Throat.
---
10. Jerry Angiulio's Massachusetts Mansion
Patriarca crime family underboss Jerry Angiulio's waterfront home in Nahant, Massachusetts. I have a friend that used to go there for Christmas parties as a child. Patriarca appointed him underboss of the Providence based family. Retired State Police Colonel Thomas J. Foley said "He [Angiulio] is probably the last very significant Mafia boss in Boston's history. In these times you don't have anybody who exerts the control, the force or even maintains the discipline like he had with his organisation during his day".
---
Latest posts by David Breakspear
(see all)