Join us as we take a closer look at the woman that played a significant role in the gangster lifestyle. I have chosen the following ten based on no criteria other than trying to list the most infamous.
Ma Barker
The godmother of crime, Arizona Donnie Barker (aka Kate Barker), was merciless despite her sweet-sounding moniker of 'Ma Barker'. Marrying George Barker at 19 they went on to have four sons; Herman, Lloyd, Arthur and Fred. It is said that the crime family were carrying out highway robberies as early as 1910.
It wasn't long before murder was part of their repertoire and they became household names. However, things started to go wrong in 1927 when, wanting to avoid arrest, Herman committed suicide. It wasn't long after that the remaining sons ended up in jail, then Fred was released in 1931 he and his mum started a new crime spree which would eventually see them both dead. On the 8th January 1935 the FBI stormed their Lake Weir, Florida hideout with Ma and Fred both being killed. J Edgar Hoover called her "The most vicious, dangerous and resourceful criminal brain of the last decade". Among many women to plat Ma Barker was Shelley Winters in the 1970's film 'Bloody Mama'.
Bonnie Parker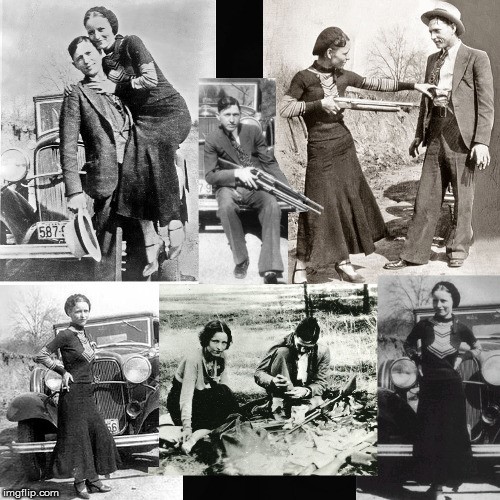 Without doubt the most famous on our list. Along with her partner Clyde Barrow and their gang it is suggested that this young girl born in Rowena, Texas, was involved in one hundred and more felons in the two years she was Clyde's companion. Prior to Barrow, Bonnie had met Roy Thornton at school, they subsequently dropped out of school and got married on the 25th September 1926, six days before her 16th birthday. They never divorced, in fact, Bonnie was still wearing Roy's ring when she died.
Separate from their robberies and killings, the legend of Bonnie and Clyde grew in part because of a photo shoot they did near their Joplin, Missouri hideaway, images that still stir re-imaginings of their lives. But those lives were cut short in a gruesome shootout with police in 1934. She was 23 he was 25. Though recognised these days for their dozen-or-so bank raids, the duo most often favoured to rob small stores or rural gas stations. The gang is thought to have killed at least nine police officers and several neutrals. However, one of the gang members later testified that he never saw Bonnie fire a shot.
Although Bonnie was a heavy smoker of cigarettes she never smoked cigars. The cigar myth grew out of a playful photograph police found at an abandoned hideout.
Stephanie St. Clair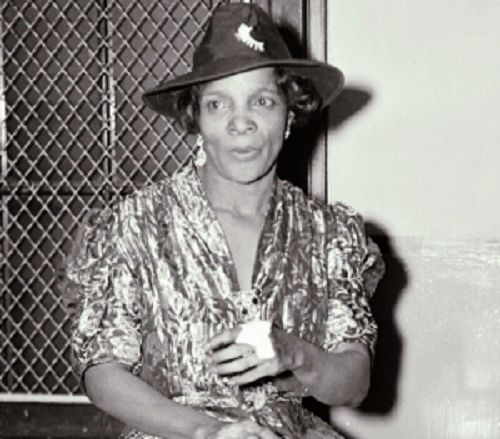 Quite simply known as 'Queenie' in Manhattan but in Harlem she was known only as Madame St. Clair. 'Queenie', who was of French/African descent, was very protective of her neighbourhood and even went as far as testifying against dirty cops, getting them sacked from the police force. Even more impressive, she thwarted the incursion of downtown mobsters once the end of Prohibition sent them uptown in search of new profits.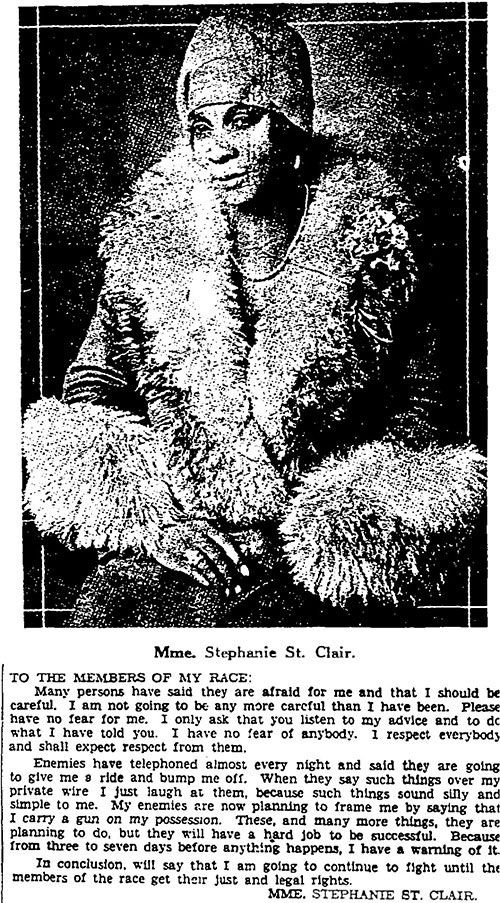 Through her enforcer Ellsworth 'Bumpy' Johnson (when she retired, St. Clair handed her operation over to 'Bumpy', who became known as The Harlem Godfather) and an alliance with Lucky Luciano, St. Clair was able to keep the likes of Dutch Shultz away from her businesses in Harlem. It is said she sent a note as Shultz lay dying saying "As ye sow, so shall ye reap".
St. Clair has been immortalized in two films to date. In the 1984 film The Cotton Club, Novella Nelson played her and in 1997, she was portrayed by Cicely Tyson in Hoodlum.
Helen Wawrzyniak
At 16 she married a man by the name of Lester Gillis, not only becoming Mrs Helen Gillis, but also will be known as public enemy #1 by the time she is 20 with two children fathered by her husband 'Baby Face Nelson'. It seems a bit harsh that there was a 'shoot to kill' order passed on Helen, her only crime being that of staying with 'Baby Face'.
She's regarded more as an accomplice than a gangster in her own right, but Gillis was present at the "Battle of Barrington" in Illinois on November 27, 1934. Her husband was killed in a shoot-out with FBI agents Ed Hollis and Sam Coley. There, Nelson spotted a cop car, and with Gillis and fellow thug John Paul Chase in tow, chased it down, guns blazing. This led to a shootout that killed Nelson along with the two agents.
Gillis earned her place on the Public Enemies list by harbouring her dying husband. She gives herself up on Thanksgiving Day. Bitter over Nelson's ugly demise, Gillis testified against Chase, helping secure his life sentence. She died more than fifty years later but was buried next to her beloved Baby Face in Chicago's St. Joseph's Cemetery.
Virginia Hill
The 'Queen of the Gangster Molls' aka 'The Flamingo'. Virginia was notorious as Bugsy Siegel's girlfriend. Ms. Hills was born in Alabama but raised in Georgia before moving to Chicago in search of a better life. Virginia ended up working as an accountant for Al Capone. However, with her ambitions of becoming an actress she was soon moving on to Los Angeles where she would meet, work for and fall in love with Bugsy. He named the ill-fated Vegas hotel 'The Flamingo' after Virginia, not only did the venture bring an end to Bugsy's career, it also cost him his life, he was shot and killed in Hill's Hollywood home on June 20, 1947.
Virginia died of an overdose of sleeping pills in Austria on March 24, 1966, she was only 49. According to Andy Edmonds' account in Bugsy's Baby: The Secret Life of Mob Queen Virginia Hill, her death was suspicious despite it being suicide. The Austrian media, which were well informed about her former relationship with Siegel, speculated that she tried to get money by using her knowledge of the Italian-American Mafia and Mexican drug cartels.
Virginia was the subject of a 1974 television movie, in which she was portrayed by Dyan Cannon. She was played by Annette Bening in the 1991 film Bugsy, a dramatization of her relationship with Bugsy Siegel (Warren Beatty).

Griselda Blanco
Now!!, here's a woman you would not want to Scorn, with noms de plume such as; 'La Dama de la Mafia' (The lady of the Mafia), 'The Godmother' and 'The Black Widow' should tell you all you need to know about this Colombian drug lord of the Medellín Cartel and who was also heavily involved in the Miami cocaine trade of the '50's. It is suggested that up to 200 murders could be attributed to Griselda's operations.
Blanco was a most important character in the history of the drug trade from Colombia to Miami Florida, and other states across the United States. In the mid-1970s, Blanco and her second husband Alberto Bravo arrived in the US settling in Queens, New York. In April 1975 Blanco was indicted on federal drug conspiracy charges along with 30 of her subordinates. She fled to Colombia before she could be arrested, but returned to the United States, settling in Miami in the late 1970s. Blanco's return to the US from Colombia coincided with the commencement of very public violent conflicts that involved hundreds of murders and killings yearly. In April 1975, after Operation Banshee, the DEA and the New York Police initiated the first investigation into drug trafficking. That's why she moved to Miami, where the sale of cocaine began to flourish. Griselda put into practice the methods of the Sicilian mafia (she was such a fervent follower of the Sicilian mafia, to the point that after the movie The Godfather she baptized one of her sons Michael Corleone), her enemies, bad clients, debtors or conspirators were wiped out through assassins, headed by the Venezuelan Rivi Ayala, "The Black Widow's" main bodyguard.
Her serious problems began when she, in parties in her luxurious properties in Florida, fell into drug use. Then, pursued by the US authorities, with multiple enemies and a business out of control, she went to live in California, where on February 17, 1985 she was captured. Before this, thinking that her power gave her everything, she planned to kidnap John F. Kennedy Jr. to negotiate with the Prosecutor's Office, but her new lover, Charles Cosby, betrayed her. Months later she was sentenced to 20 years in prison. The prosecution had asked for Griselda to be executed in the electric chair, but her legal team came up with a strategy to discredit the testimonies of Rivi Ayala: he accepted that he had had sexual conversations with a female investigating officer, which made his accusations lose credibility.
She was said to have a net worth of over US$2 billion by the time she was murdered on the night of September 3, 2012. Griselda was shot twice in the head by a lone motor cycle assassin outside Cardiso's Butcher shop in Medellín, Colombia.
Arlyne Brickman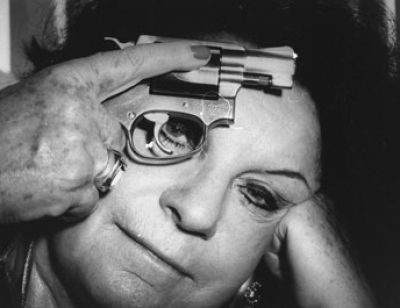 Born to a Jewish family in New York's Lower East Side in 1934, Arlyne idolised the thrills and exploits of Virginia Hill stating, "here is a broad that really made it good". Arlyne later told biographer Teresa Carpenter, she worked for the mob as a numbers runner, drug dealer, and loan shark. Yet her Jewish heritage was an obstacle to rising the ranks of the Sicilian-run crime syndicate. Still, the money and power were good enough to please her. However, Arlyne will always be remembered as an informant, in 1986 her testimony helped convict Anthony Scarpati(r) and several other members of the Colombo crime family. When Arlyne, at a Mafia racketeering trial in 1986, was asked during cross-examination what she had been doing in 1981, she replied, "I was a housewife." At this response, the courtroom filled with laughter.
There were dangerous men aplenty in Brickman's life, especially during the early frenzied years when her conquests included both crime boss Joe Colombo and boxer Rocky Graziano. Along the way, she married a furrier by the name of Brickman and had a daughter, but she quickly divorced and went back to her mob-girl ways. She hooked up with a small-time operator named Tommy Lucca. It was through Lucca, with whom Brickman had a long on-again, off-again relationship, that she became involved in a numbers-running business and, eventually, drug-dealing. And it was because of a fight with Lucca that she turned to the feds and became an informant. After the Colombo trial she refused the Witness Protection Programme stating, "That's the quickest way to get killed". Arlyne was depicted in the Book Mob Girl: a woman's life in the underworld by Teresa Carpenter, […] For Brickman, her 10 years of undercover work provided the same high as drugs, alcohol or sex. "There was a tension that would build before a surveillance, culminating in a tremendous climax of relief and self-esteem made all the sweeter by the camaraderie she enjoyed with the agents afterward," writes Carpenter.
---
Earlier we highlighted Baby Face Nelson's wife Helen Gillis, let's now look at three other women synonymous with the Dillinger gang known as the 'Terror Gang'. First up we have John Dillinger's girlfriend 'Billie'.
---
Evelyn 'Billie' Frechette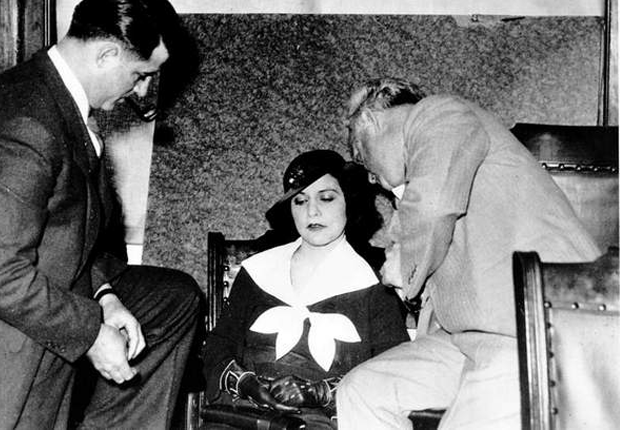 Evelyn adopted the nickname 'Billie' and there are two versions as to why, one suggests that she did it to pay homage to her father who passed away when she was only 7 years old. Others say Evelyn called herself 'Billie' after she had heard that her son, who was born with congenital syphilis had died. Evelyn could not care for him and placed her son, who had severe learning difficulties, in to the care of a Reverend Edward Brooks in Chicago.
In 1936 to 1941, Evelyn went on a speaking tour of the US turning her life experiences into a "Crime does not pay" show. In 1934 'Billie' was sentenced to two years and a day along with a $2,000 fine for harbouring a fugitive. This was a result of the St. Paul shootout where Evelyn lived with John after his escape from Crown Point County jail on March 31st, 1934. They had been living together as Mr and Mrs Carl Hellman. It wasn't until April 9th, 1934 that Evelyn was arrested in Chicago by FBI agent Melvin Purvis following a tip off.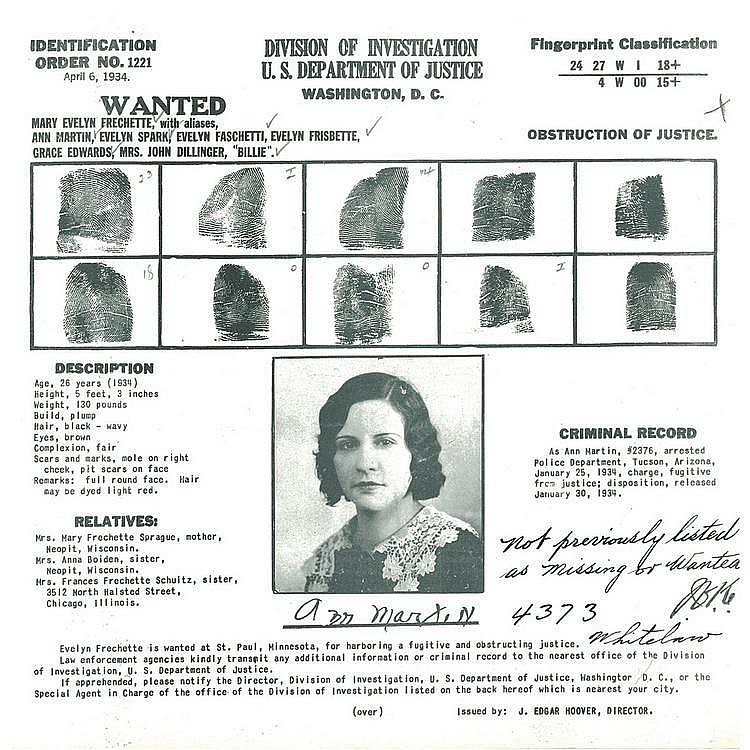 Evelyn was born in 1907 on the 15th September in Wisconsin, a member of the Menominee tribe with a mixed heritage of French and American Indian. Following the "Crime did not pay" tour Evelyn returned to the Menominee reservation and lived there until her death in 1969.
Opal 'Mack truck' Long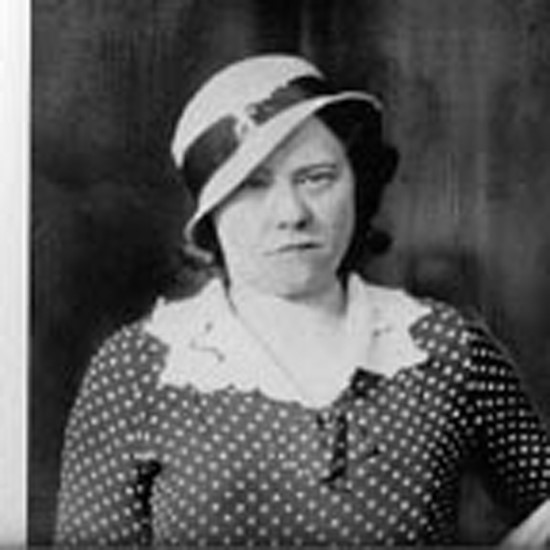 Opal Long (aka Bernice Clark) despised the nickname 'Mack truck' (it was said she was the size of a Mack truck), she preferred the nickname 'Bernice' and she was the matriarch of the "Terror Gang" as it was known then. 'Bernice' was the caregiver of the group, she always put others before herself and prided herself on her loyalty to her 'kids', which is what she called the other gang members. She paired up with Russell Clark (pic L) until the two were arrested in Tucson, Arizona on the 25th January 1934.
It is reported this caring, selfless lady fought like an animal breaking a policeman's finger but also receiving many cuts to her face. Opal was released on bail to Evelyn Frechette, she worked tirelessly raising money for Clark's appeal, however, Opal became an outcast to the Dillinger gang, they blamed her specifically for the March '34 raid on the St. Paul apartment and indirectly blamed for the subsequent death of Eddie Green.
Opal, along with her sister Patricia Cherrington were arrested on the 2nd of June 1934 for their involvement in harbouring Dillinger and John Hamilton at the St. Paul apartment on the 30th March '34. Receiving 6 months prison Opal refused to pass any information, which could have made her sentence easier, about the gang that turned her away!
Pearl Elliott
Last but by no means least we have Pearl Elliott, 'The Mystery Woman'. Pearl was not like the other women in Dillinger's gang, where most women were either wives or girlfriends. No sir! Pearl was very much her own lady who fiercely, as befitted most early 20th century Madams. Madam Elliott like most in her profession relied on protection, in Pearl's case it was a political representative who was also her uncle, allowing her to keep her 21 room 'boarding house' going untouched for over a decade from the early 20's to 1934. Another form of protection was police protection, if they had a client play up a flashing light would be placed in the window and the local police would deal with the problem no questions asked. This method is mentioned in Polly Adler's book about prostitution "A house is not a home".
Pearl was implicated in two 1925 robberies, namely the New Harmony and South Kokomo Indiana banks. These were committed with a close friend of Dillinger, Harry 'Pete' Pierpoint (pic R), whom he met in Michigan City Penitentiary. Harry refused to give any info that would've implicated Pearl further and she remained indebted to him. In 1933 Pearl became Dillinger's accountant holding on to receipts from several bank jobs during the summer and fall of '33. Following the escape from prison, Harry along with John Dillinger, John 'red' Hamilton, Charles 'Fat Charley' Makley and Russell Clark created the 'Terror Gang'.
Pearl's husband, Dewey Elliott, used his connections with Frank Nitti to get the' Terror Gang' established in Chicago, Pearl, under FBI investigation, went missing with Dewey passing away from cancer sometime in 1935.
Latest posts by David Breakspear
(see all)