Reading Time: 6 minutes
Related to several independent-spirited Profaci-Colombo Crime Family mobsters who met with violent ends, Anthony Abbatemarco attained a leadership position within the organization and reached a ripe, old age.
Born in Brooklyn on April 6, 1922, Anthony Abbatemarco was the first child of Frank and Mary Abbatemarco. The family lived at 702 President Street in the Park Slope section, just outside of Gowanus. On the same city block resided Anthony's grandmother Rosa and his uncle Dominick.
Frank Abbatemarco and his brother, Anthony's uncle Michael (known as "Mike Schatz"), were members of Frankie Yale's Brooklyn underworld organization at the time of Yale's assassination on July 1, 1928. The Yale gangsters appear to have been absorbed into the Mafia families of Giuseppe Masseria and Giuseppe Profaci. Michael, a Prohibition Era beer baron, may not have approved of the new arrangements. He was murdered just three months after his former boss. Frank Abbatemarco, who acquired his brother's "Schatz" nickname, apparently was more agreeable and became a soldier in the Profaci family. Anthony eventually would follow his father into that organization.
Frank grew in importance in the underworld of Brooklyn through the 1930s, specializing in gambling. Anthony, after serving in the military during World War II, joined in his father's policy (numbers) rackets. He became known to his associates as "Tony Shots."
In March of 1952, father and son were arrested along with young Gowanus-area mobsters Carmine Persico, Lawrence Gallo and Joey "Joe the Blond" Gallo, and several others involved in the Brooklyn numbers. Anthony, who claimed to be unemployed, was found to be holding a thick roll of bills totaling $2,400, and police noted he had recently purchased a new Lincoln automobile valued at $3,800. Authorities labeled Anthony the No. 2 man in the ring managed by Frank. Frank and Anthony pleaded guilty to lottery conspiracy charges on June 24, 1952. Both were sentenced to terms at Riker's Island Penitentiary – Frank for a year and Anthony for nine months.
When they were released from prison, the Abbatemarcos rejoined their old organization and went right back to work in the lucrative policy racket.
In the late 1950s, Frank Abbatemarco's crew began withholding tribute payments expected by crime family boss Profaci. As a result, the boss ordered the murders of both Frank and Anthony, and he called on the Gallos to perform the executions. Frank was executed on Nov. 4, 1959.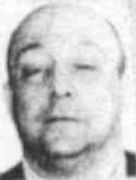 Learning of his father's murder, Anthony went into hiding. The Gallos expected to be rewarded for their efforts by being granted control of the policy racket, but Profaci instead gave that to his own relatives. Lawrence and Joey Gallo, their brother Albert and a number of allies openly rebelled against Profaci. Carmine Persico, initially part of the rebellion, switched to Profaci's side very early in the conflict. The Gallos forced concessions from Profaci early in 1961 by kidnapping several high-ranking Profaci crime family leaders, but Profaci reneged and condemned the rebels to death.
Gallo gunmen Joseph "Joe Jelly" Giorelli disappeared in August 1961. After he had been missing a few days, Profaci sent the rest of the gang a message: A bundle was thrown from a passing car near the gang hangout. It contained Giorelli's coat wrapped around a dead fish.
Later that month, Anthony Abbatemarco reappeared. Perhaps learning of the Gallos' insurrection and of their involvement in his father's murder – but not yet of Profaci's own role in those events – Anthony assisted in the Profaci-approved Aug. 20 attempted murder of Lawrence Gallo at a South Brooklyn restaurant. Carmine Persico is believed to have led Gallo to the location. The hit was interrupted by a passing patrolman, who was shot as Gallo's attackers fled. From his hospital bed, the patrolman identified Anthony Abbatemarco as the person who shot him. Abbatemarco was arrested and charged with the attempted murder of a police officer.
On the afternoon of Oct 4, Abbatemarco's cousin Joseph Magnasco – an important member of the Gallo faction – was shot to death on the sidewalk. Knowing of Magnasco's underworld connections, police immediately raided the headquarters of Direct Vending Corporation at 51 President Street, a front for Gallo rackets. They took 11 men in for questioning. The group included Lawrence and Joey Gallo, and, somewhat surprisingly, Anthony Abbatemarco. During the six weeks following the attempt on Lawrence Gallo's life, the Gallos apparently had an opportunity to set Abbatemarco straight on who was ultimately to blame for his father's murder.
Abbatemarco was with Lawrence and Albert Gallo (Joey Gallo was in prison), Leonard Dello, Alfonso Serantino, John Commarato and Frank "Punchy" Illiano on Jan. 31, 1962, as they entered a burning third-floor apartment to rescue six children. The group was interviewed and photographed for the newspapers. at the time, Albert Gallo commented, "We'll probably get locked up for putting out a fire without a license."The Gallo rebellion continued through the death of Profaci on June 6, 1962, and through the troubled reign of Profaci's successor Giuseppe Magliocco. By 1964, Joseph Colombo took leadership of the crime family with the approval of the Mafia Commission. Colombo entered into negotiations with the Gallo faction in an effort to put a stop to the long conflict.
In this period, Abbatemarco abandoned the Gallo cause and supported Colombo, though the Gallo group's cooperation with Colombo quickly ended. Abbatemarco became part of a crew commanded for a time by the aging Salvatore "Charlie" Mineo (who also served in a top leadership post in the crime family). Also in the crew was Joseph Yacovelli. Early in 1965, the leadership of the crew was changed due to Mineo's poor health, and Abbatemarco found himself directly (and probably uncomfortably) subordinate to Carmine Persico.
After just a few years of relative calm, the crime family once again became unsettled. Persico was convicted of hijacking in 1968. Lawrence Gallo succumbed to cancer in the same year. Crime boss Joseph Colombo was shot and critically wounded on June 28, 1971, and "Crazy Joey" Gallo was believed responsible. Colombo was incapacitated by the shooting but did not die until May 22, 1978. Joey Gallo did not live as long. He was murdered while dining with friends at Umberto's Clam House in Manhattan in April 1972. A new "Gallo War" raged in the crime family, and the Gallo faction was split with the defection of John Cutrone and his allies to a growing Persico faction.
A series of interim bosses were selected in the crime family, and Joseph Yacovelli reportedly served in that role. However, real power settled on Carmine Persico and his brother and son. Abbatemarco and Yaccovelli became leading figures in a dissident faction, and gradually Abbatemarco emerged as the top man in that faction.
Abbatemarco fell into the habit of having "business-related" conversations in his automobile, a habit that was noticed by the FBI. Between May and September of 1974, the FBI listened in on his conversations through a surveillance device installed in the car. As the listening device was removed, the FBI informed Abbatemarco that it had been used. The recorded conversations, a number of them dealing with Abbatemarco's analysis of the strength of the Gambino Crime Family and its declining boss Carlo Gambino, were brought before a federal grand jury. Abbatemarco was subpoenaed but did not appear in U.S. District Court. Abbatemarco was plagued with alcoholism and anxiety and was unfit to testify in court, his attorney argued. The court received a doctor's note indicating that Abbatemarco's "judgment, thinking and memory" were "severely impaired."
The following year, Staten Island-based capodecina Thomas DiBella was placed in control of crime family operations. Under DiBella's watch an agreement was finally reached in the long struggle with the Gallo gang. Albert Gallo, the last surving Gallo brother, and other members of the group (including Frank "Punchy" Illiano) were permitted to leave the Colombo Crime Family and join with the Genovese organization.
In the mid-1970s, federal investigators learned that Abbatemarco was serving as the Colombo Crime Family underboss. In the fall of 1976, several crime family lieutenants approached him and Yaccovelli, then reportedly consigliere, to complain about the Persico-favoritism demonstrated by DiBella. New York crime families had agreed to "open the books" and induct new members in 1976, and DiBella reportedly gave 15 of the crime family's 33 approved new membership slots to the Persico faction, splitting the remainder among the other crime family crews. Reports indicate that Abbatemarco and Yaccovelli took the complaints to the Mafia leadership Commission, asking that DiBella be removed. The request was denied.This amounted to a dangerous break between the Abbatemarco faction and DiBella. A meeting was called to resolve the dispute in May 1977. Abbatemarco and Yacovelli kept a safe distance. But ally Salvatore Albanese, a tough enforcer for the faction, attended a dinner sit-down with Persico and DiBella-aligned mobsters. Albanese was not seen after the dinner.
Abbatemarco reportedly went into hiding in upstate New York, turning operation of his gambling empire over to subordinates, and Yacovelli stopped following his normal daily routines.
While removed from the day-to-day activities of the crime family, Abbatemarco lived long enough to see the Persico faction split into two warring factions. He died in the summer of 2005.