Dean O'Banion was the son of an Irish immigrant, Charles O'Banion, He was born on July 8th 1892 in Maroa Illinois, in 1901 Dean's mother Emma died from tuberculosis and Charles Sr relocated with his sons to Chicago, his father was a painter by trade and raised his sons within a district in Chicago called Kilbubbin, it was known as Little hell because of it's high crime and unemployment rates. Dean attended the Holy Name Parochial School and served as an alter boy at the Catholic Holy Name Cathedral.
Dean O'Banion was a member of the Little Hell Gang, the youth branch of the Market Streeters, The Market Streeters were a gang of shoplifters and muggers who sold the Chicago Tribune a local newspaper anyone who refused to sell the newspaper because the target of the gangs assaults and vandalism, Dean was a member of the youth branch of The Market Streeters.
Through the gang, he met the three teenagers Earl 'Hymie' Weiss, Vincent 'the Schemer' Drucci and George 'Bugs' Moran, Who would become his lifelong friends.
Throughout his life, Dean always displayed a wild sense of humour. In his days as a Little Hell gangster, he enjoyed riding on the back bumper of the street cars. On one occasion, a car he was sitting on suddenly stalled and then rolled backwards. Dean was thrown to the ground and the car ran him over. In hospital, doctors were convinced that the unconscious boy would die, but he survived. However, his left leg was an inch shorter than before, and he walked with a limp for the rest of his life.
In 1909, O'Banion was arrested by a night watchman, he was caught stealing postage stamps from a drug store. This resulted in his first criminal conviction and he served a 3-month sentence in a house of correction. He then served a short prison sentence in 1911 for assault with a blackjack as his choice of weapon, he was also caught with possession of deadly weapons. This was the last prison sentence he ever received.
In 1920, O'Banion started a bootlegging operation. He made arrangements for beer suppliers in Canada to start shipments immediately, and also struck deals with whiskey and gin distributors.
On February 5 1921, Dean married 18 year-old Viola Kaniff. At the Holy Name Cathedral on North State Street, they brought an apartment at 3600 North Pine Grove Avenue which at the time was one of Chicago's more upmarket areas. According to his wife, he was a loyal and caring husband who never left home without telling her where he was going. He also made the effort to get a legitimate job, possibly so that his criminal operations didn't seem so noticeable, he brought half share in Schofields Flower Shop at 738 North State Street, Dean, who had a passion for flower arranging, worked long hours in the shop and often brought a bouquet home to his wife.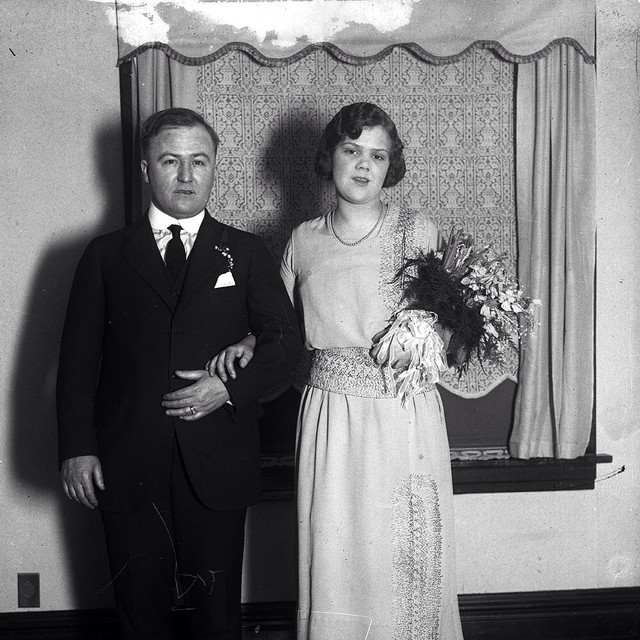 O'Banion pioneered Chicago's first liquor hijacking on December 19, 1921. he spotted a truck on a whisky delivery round. The truck halted at a stop sign and O'Banion opportunistically drew his gun and jumped into the cab, pushing the driver out. He drove the truck to Morton's garage and made a few phone calls. Within 20 minutes, the whisky was sold.
The O'Banion mob, known as the North Side Gang, now ruled the North Side and the Gold Coast, the wealthy area of Chicago situated on the northern lake-front. As O'Banion's name grew in the underworld, he attracted more followers, including, Louis 'Three Gun' Alterie, Samuel "Nails" Morton, and Dan "Handsome" McCarthy.
That first Heist with the whiskey hijacking got O'Banion into trouble.
The biggest booze supplier at the time was Johnny Torrio, who had just taken over "Big Jim" Colosimo's Outfit and set up the new Chicago Crime Syndicate, a partnership between the main gang leaders in Chicago. Torrio and his lieutenant Al Capone met with O'Banion and Weiss to discuss the robberies. Torrio asked O'Banion to join the crime syndicate, which meant that O'Banion and the other syndicate members would have to respect each other's territories and properties.
As leader of the syndicate, Torrio received a portion of the profits from the other gangs, but in order to keep the peace, he was willing to make an exception in the case of the Northsiders. O'Banion agreed to join and to consolidate their new partnership, the two sides exchanged shares in each other's businesses. Torrio got shares in some of O'Banion's breweries, including 50% of the Sieben Brewery. In return, O'Banion was brought in on some distilleries and gambling dens belonging to the Torrio Outfit.
---
North v South Chicago: The Battle for Power
For a while, The North and South called a truce but it didn't last long, O'Banion scammed Torrio out of half a million dollars, and so Torrio retaliated. The city had become a gold mine for the South Siders and O'Banion wanted a cut of it. To placate him, Torrio granted O'Banion some of Cicero's beer rights and a quarter-interest in a casino called The Ship. O'Banion then convinced a number of his `liqor and drinking clubs and shops in other Chicago territories to move to his strip in Cicero. This move had the potential to start a bootleg war. Torrio attempted to convince O'Banion to abandon his plan in exchange for some South Side brothel proceeds. O'Banion angrily refused, as he abhorred prostitution.
Meanwhile, the Genna Brothers who consisted of six Sicilian born brothers, who controlled Little Italy west of Chicago's down town region, began marketing their whiskey in the North Side, this was O'Banion's territory. O'Banion complained about the Gennas to Torrio, but Torrio did nothing.
February 1924 was the start of the process which leaded to O'Banions and Torrios truce to be extinguished, O' Banion moved against his South Side rivals by unsuccessfully trying to frame Torrio and Capone for the murder of North Side hanger-on John Duffy.
Finally for In May, 1924, O'Banion learned that the police were planning to raid The Sieben Brewery, a place O'Banion and Torrio held large stakes within. Before the raid, O'Banion approached Torrio and told him he wanted to sell his share in the brewery, claiming that the Gennas scared him and he wanted to leave the rackets, obviously that was not the case, however, Torrio agreed to buy O'Banion's share and gave him half a million dollars.
On the night of O'Banion's last shipment, the police swept into the brewery. O'Banion, Torrio, and numerous South Side gangsters were arrested. O'Banion got off easily because, unlike Torrio, he had no previous prohibition related arrests. Torrio had to bail out himself and six other associates, and later court charges with the possibility of jail time. O'Banion also refused to return the money Torrio had given him in the deal. Torrio soon realized he had been double-crossed. He had lost the brewery, $500,000 in cash, been indicted, and been humiliated, this was the nail in the coffin and Torrio finally agreed to the Gennas' earlier demand to kill O'Banion.
---
The Assassination
On November the 3rd 1924 O'Banion sat in with Al Capone and other notorious bosses Frank Nitti, Frank Rio and others to tally the week's profits. It was mentioned that Angelo Genna had dropped a large amount of cash, plus a sizeable marker. Capone recommended that they cancel the marker as a professional courtesy. O'Banion, instead, got Genna on the telephone and demanded that he pay his debt within a week. With this personal insult, Angelo Genna and his family could no longer be restrained, O Banion ha inadvertently signed his own death warrant
Frankie Yale, and other gangsters visited Schofield's, O'Banion's flower shop, to discuss floral arrangements. However, the real purpose of these visits was to memorize the store layout for the hit on O'Banion.
On the evening of November 9, he got a special order by telephone for a custom wreath to be picked up the following morning.
On the morning of November 10, 1924, O'Banion was clipping chrysanthemums in Schofield's back room. Unfortunately for O'Banion, Louis Alterie, his bodyguard is hung over and does not make it to the flower shop that morning. Yale entered the shop with Torrio and Capone's gunmen John Scalise and Albert Anselmi. "Hello, boys" greeted O'Banion, "You from Mike Merlo's?" The man in the middle, Yale nodded and returned O'Banions handshake in a clasped death grip. At the same time, Scalise and Anselmi fired two bullets into O'Banion's chest, two in his cheeks, and two in his throat.
Dean O'Banion died instantly.
---
The Aftermath
The O'Banion killing would spark a brutal five-year gang war between the North Side Gang and the Chicago Outfit that culminated in the killing of seven North Side gang members in the St. Valentine's Day Massacre in 1929.


Upon hearing the news of O'Banion's death, Hymie Weiss crumpled to the floor of his bathroom sobbing uncontrollably. He has lost his best friend, boss and mentor. Louis Alterie also breaks down, making crazy statements during the funeral. He is prepared to have a shootout in the street with O'Banion's killers, Moran urges Alterie to leave town quietly.
In 1926 Weiss and his men led a deadly convoy through the suburb of Cicero, firing more than a thousand rounds into Capone's headquarters and hitting several innocent passers-by. Three weeks later, in front of Holy Name Cathedral in down town Chicago, Capone's men machine-gunned Weiss to death and wounded three of his lieutenants.
"It was extremely cold blooded. Nobody knows to this day who did it. Nobody was ever arrested, nobody was ever charged with the crime. It was widely believed to have been the work of Al Capone, who was said to be in pursuit of Bugs Moran. Bugs Moran was not one of the seven men killed."
---
The St. Valentine's Day Massacre
Weiss was dead, Moran was the only one left to take over he ran his bootlegging operations out of a garage on the North Side of Chicago. On February 14, seven members of Moran's operation were gunned down while standing lined up, after Capones phony cops lined the men up facing the wall of the garage. Some 70 rounds of ammunition were fired. When police officers from Chicago's 36th District arrived, they found one gang member, Frank Gusenberg, barely alive. In the few minutes before he died, they pressed him to reveal what had happened, but Gusenberg wouldn't talk.
Capone's men had missed their main target, Moran was late for the meeting that he was supposed to have attended in the garage, even though Moran lived, his gang was in shambles, the Mob Wars were over, Capone became the undisputed boss of the Chicago underworld and no one was ever convicted for the Valentine's Day killings.
Latest posts by Hayley Dean
(see all)