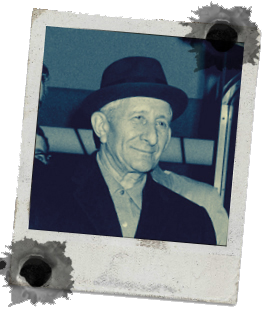 Also Knows As: Don Carlo
Born: Sunday August 24th 1902
Died: Friday October 15th 1976
Age: 74
Cause of Death: Heart Attack
Crime Family Association: Gambino Crime Family
About Carlo Gambino
Carlo Gambino was a low-key mob boss, who had more power than the Mayor, and it was this secretive characteristic that helped him become one of the most strongest mob bosses of all time.
He was born in Sicily, in the city of Palermo which is located in the northwest of the island.
In 1921 at the young age of 19, Carlo was already a made man, and it was soon after that, he emigrated to the United States as an illegal immigrant on-board a shipping boat.


The Castellammarese War
The Castellammarese War sculpted the way the Mafia in America would turn out; you can read more on the Castellammare War here. Joe the Boss and Salvatore Maranzano, who were two old time bosses, were fighting for power for almost four years, devastating the Prohibition-era operations and street rackets that the five New York families controlled along with the Irish and Jewish crime groups.
The war was shedding too much blood, and bringing too much light on the Mafia. Lucky Luciano and Young Turks decided to put an end to the war, and create an organized National Crime Syndicate. Lucky gave Gambino an option to join him in helping take out both of the bosses, Carlo agreed and this decision helped propel him in the ranks.
After the death of Joe The Boss, and the later death of Sal Maranzano, Gambino was offered position as an Underboss to Vincent Mangano (soon to be Albert Anastasia).

Carlo The Family Man
Carlo was said to be a great family man, but even that couldn't curb his enthusiasm for money and power. In 1926 he married his first cousin, Catherine Castellano, and they were to have three sons and a daughter. The sons names were Thomas, Joseph and Carlo, his daughter was Phyllis Sinatra.

The Lord High Executioner
At the time, Albert Anastasia was one of the most powerful and violent mobsters of his time. After his relationship with mob boss Mangano slowly broke down, he decided to take out the boss and his brother. Anastasia was the co-founder of Muder Inc which was responsible for up to 1,000 deaths and worked as the enforcement arm of the Mafia.
Carlo was kept as the Underboss when Anastasia took the helm, but Gambino knew that he would not be able to get to the top through natural succession, as he and Anastasia were both in their mid 50's.
Anastasia was also abusing his power, and the death toll soon racked up. Gambino and Vito Genovese didn't get on with Anastasia so they teamed up to plot a hit on him. The idea was for Vito to take over the Costello family while Gambino would get the Anastasia family, and in partnership they overthrew both families.
A failed hit on Frank Costello (by Vincent Gigante) made Costello step down and hand the family to Genovese, whilst an assassination on Albert Anastasia handed that family to Carlo Gambino.

Boss of Bosses
Carlo Gambino expanded his rackets all over the country in the 1960's. New Gambino rackets were created in New York, Chicago, Los Angeles, Miami, Boston, San Francisco and Las Vegas.
The crime family soon grew to be the biggest and most powerful family in the U.S.
However, Gambino was against any kind of narcotic business. He was claimed to say:
"Heroin and Cocaine are highly lucrative, but were dangerous, and would attract attention. The punishment for dealing drugs is death."
In 1962, his eldest son Thomas Gambino married the daughter of mob boss Gaetano Lucchese, the new head of the Gagliano crime family which had been renamed the Lucchese Crime Family. This would strengthen Gambino's already high powered position as he would become a close partner to Lucchese.
It has been alleged that Carlo Gambino personally gave Lucchese $30,000 as a "welcome gift" and in return Lucchese cut Gambino into the airport rackets that were under Lucchese control, especially at John F. Kennedy International Airport, where all unions, management, and security were controlled by Lucchese himself.
In the mid 1960's Lucchese passed away and Joe Bonanno was forced into retirement (he was offered the choice of retiring from The Commission or to have a contract placed on his head). This propelled Carlo to the Boss of Bosses, even though this title had been scrapped years before in the new structure of the Mafia.

Carmine "Mimi" Scialo Incident
Respect was an important factor of the Mafia, especially if you were a street soldier talking to the mob boss of your family or another family. Unfortunately for Carmine Scialo, who was a soldier in the Colombo family this didn't apply.
Scialo would become loud and outspoken when under the influence of alcohol. He would be disrespectful to any superior, and in one incident he crossed the line.
That day was in October 1974 when Scialo had been drinking at a local Italian restaurant. Carlo Gambino was also in the same place, and Scialo had spotted Carlo Gambino and began to insult him, shouting abuse and harassing the Boss of Bosses.
Gambino in his own true low-key form, stayed calm, looked at Scialo but didn't say a word. Scialo was eventually pulled away by other Colombo soldiers.
Scialo's body was found soon after at Otto's Social Club in South Brooklyn encased in the cement floor.

FBI Gambino Squad
Gambino's house, located on Ocean Parkway was under 24 hour surveillance by the FBI's mob squad. However, Gambino being low-key and secretive found ways to operate without saying a word.
Despite the cameras, specialist lip-readers and audio equipment, the squad could not connect Gambino to any crime.
According to FBI officials, they once recorded a meeting between Aniello Dellacroce , Joseph Biondo, and Carlo Gambino, where Biondo is just to have said: "Frog legs", and Carlo Gambino simply nodded. This was another way of ordering a hit on someone.

Death
Carlo Gambino earned the family over $500,000,000 a year, gave the nod for many contracted hits, ran the family with an iron fist for over 20 years, and somehow never received an attempt on his life.
He died of a heart attack on October 15, 1976, while watching his beloved New York Yankees at his home in Massapequa. His funeral was said to have been attended by at least 2,000 people, including police officers, judges and politicians.
Play The Carlo Gambino Biography