I'm kinda tripping out as I recently realized that it's been four years since our Capo Craig Timmins gave me the opportunity to put in some stories here at NCS. Stories that I found interesting and seeing as how I'm in New Orleans that generally means stories focused on the Crescent City. Doesn't seem like it's been that long. Not at all.
One of the first things I did was a bit more like a tour of a small section of the city most people wouldn't care to spend time in. At least not while still attached to their mortal coil. 2016 saw the first part and the second came in 2018. The third is now in 2020. Wasn't planned that way, just how it worked out.
In the first part of Where New Orleans Buries it's Dead Mobsters we covered Metairie Cemetery where the majority of these Friends of Ours are spending eternity. And they are spending it in a beautiful slice of NOLA real estate. The second part focused on the 2nd largest gathering of Our Friends in their eternal rest in Greenwood Cemetery. Not as beautiful as Metairie Cemetery by a long shot but you still had to have a little moola to get in. Our third part will be covering several cemeteries around the city and the surrounding towns, especially Carlos Marcello's old stomping grounds on the west bank in Gretna.
As per the other two parts, these are not meant to be all encompassing write ups but just a quick rundown of who, what, where and why. And, indeed, sometimes I don't have much more info than what's on these tombs.
Hope whoever see's this enjoys it and as usual, anyone that wants further info/details can always contact me through the site here or go to my Facebook group Crescent City Mafia, Murder and Mysteries.
---
Westlawn Cemetery in Gretna Louisiana
A smallish cemetery compared to our previous two but a fairly nice place with quite a few big oaks draped with Spanish Moss in the front of the property. Gretna is MUCH smaller than New Orleans but really, as far as Mafia history concerning Marcello….. it's MUCH more important than NOLA.

Marcello Family
Here lies Carlos mother Louise, father Joseph and brother Vincent. Out of his six brothers it's thought that only two were actually Made, Vincent being one. Carlos's father Joe has never really thought to have been involved in that life but I have my suspicions that he was involved at least to a point. Carlos was originally laid to rest here with his family and moved about ten years later to Metairie Cemetery in New Orleans by wife Jackie.
Beauregard Miller
Just a short little jog from the Marcello tomb is the longtime Marshall of Gretna, just shy of 50 years in his position. Miller was attached to Carlos through gambling. Carlos was caught on tape commenting about how he used to bring Miller bags of cash in the old days, as much as 50K at a time. Miller was also one of those called to appear before the Kefauver Committee in January 1951 and asked why he openly allowed gambling to continue in his town.
"Plenty of people working in them and making a living out of it. Without the gambling it would be a dead town."
When asked if he held any interest in gambling clubs in his town Miller was a little less forthcoming when he answered in the negative when in fact he owned The New Garden Club. Miller had a reputation of not being someone to mess with.
Joseph Provenzano
His tomb lies in between the Marcello and Miller tombs. Went by Jr. and a close friend of Carlos's. Known for arson. I've seen info that he was related to Tony Pro in Jersey but have found nothing to confirm it either way.
Salvadore Marciante
And rounding out this little clump of friends in eternity is Marciante's tomb. Marciante, a former Merchant Marine, had a record for things that included assault, ration stamp fraud and extortion. Marciante served as Carlos Marcello's driver and bodyguard for a period in the 1950's.
Anthony Marcello
Anthony was involved in various businesses of his brothers but wasn't a Made guy.
Peter Marcello
Involved in various businesses of Carlos's. Pete was known as a great cook and was known to make Sicilian specialties for guests of Carlos.
Nick Christiana
An early associate of Joe Chimento and Carlos Marcello. Christiana started a produce supply company that is still in operation today.
---
Hook and Ladder Cemetery
We're still on the west bank and now we move much closer to "old" Gretna and closer to where all the action happened back in the day. As the name implies, Hook and Ladder was started for firefighters. A very small cemetery and not very well kept it's grounds are Spartan. The tombs are generally the same though there are a few exceptions.
Salvador "Sam" Termine
A member of the New Orleans Family Termine was rumored to have been involved with Lee Harvey Oswald's mother Marguerite.
Salvadore "Sam" Boemia
Unclear as to if Sal was actually Made or not but he was most definitely associated with the boys. Owned a car dealership in Gretna and reportedly moved a lot of swag for Carlos.
Mary Cortimiglia
Mary was a little two year old girl who was killed while sleeping in her mother's arms. In the only Axman of New Orleans attack to have happened outside of New Orleans this attack in Gretna was also the only one to have seen a trial take place. The whole family was wounded in the attack but mother Rosie and father Charles both survived despite being seriously wounded. Though little Mary's name doesn't appear on this Italian Society tomb the Gretna Historical Society's yearly Halloween tour features this tomb during the tour. I've tried to find out if Mary's parents are with her here or if interred elsewhere but without luck so far.
Joseph Chimento
Close to Carlos Marcello and known as "Zip" he was actually an investigator for the Jefferson Parish District Attorney's office. Zip was implicated in at least one murder along with Carlos Marcello in 1944. Chimento was one of those NOLA figures profiled in the late 1960's, early 1970's in Life Magazine's spotlight on the Mob stories.
---
Now we'll move across the river to New Orleans.
St. Louis Cemetery #2
If the name sounds familiar, St. Louis Cemetery #1 is the most famous of NOLA's cemeteries appearing in movies for decades and is the most well known NOLA cemetery tour. Unfortunately we won't have any entry this year from there. Maybe next go around.
Joseph Macheca
A once wealthy fruit importer and shipper, Macheca became a victim of the largest lynching in American history on March 14 1891 when he, along with 10 other Italians, were killed after a not guilty verdict in the trial of the murder of Chief of Police David Hennessey. Macheca was shot in the head while on the run in the Orleans Parish Prison from a group of vigilantes. The face plate of the vault is in very poor shape and it won't be very much longer before it's lost to history if something isn't done.
Nick Karno
We move next to the Gates of Prayer Jewish Cemetery where New Orleans own Jewish gangster lays in rest. Karno was partners with NOLA Family Capo Frank Caracci in many iconic New Orleans clubs and restaurants. The 500 Club, The Court of Two Sisters, La Strada Lounge, The Famous Door, The French Opera House, Club de Peano, Karno went way back in NOLA history. The story goes that a young Louis Armstrong was introduced to Jewish cuisine in the Karnofsky household.
Charles Murret
We're now at St. Roch (Rock) Cemetery #2 to visit an associate of the NOLA Family. Known as "Dutz", Murret was a bagman for Sam Saia who controlled gambling in New Orleans itself for Carlos Marcello out of the iconic Felix's Restaurant in the French Quarter. Dutz also had a nephew that worked for him in this capacity in the summer of 1963. His nephew, Lee Harvey Oswald, would become famous several months later in Dallas.
---
St. Louis Cemetery #3
Joseph and Katherine Maggio
Joseph Maggio was an Italian grocer who, along with wife Katherine, became the first victims of the Axman of New Orleans killings that started in 1918. On the night of May 22 1918 Joe and Katherine were attacked while asleep in their home. The killer first cut their throats and then bashed their heads in with an axe. Katherine's head was almost severed but Joseph survived until his brother found them about two hours later. He died soon after. The Axman would terrorize New Orleans for the next year and a half and it's still a very popular theory that the Axman attacks were related to Black Hand activity.
Joseph Marcello
Brother to Carlos and the second of the brothers to actually be a Made member. Joseph served s Underboss to his brother until Carlos died. Joseph was then demoted down to a Capo for the short few years he would be active in things. Joseph owned several popular restaurants including Elmwood Plantation, La Louisiane, Lenfant's and Broussard's.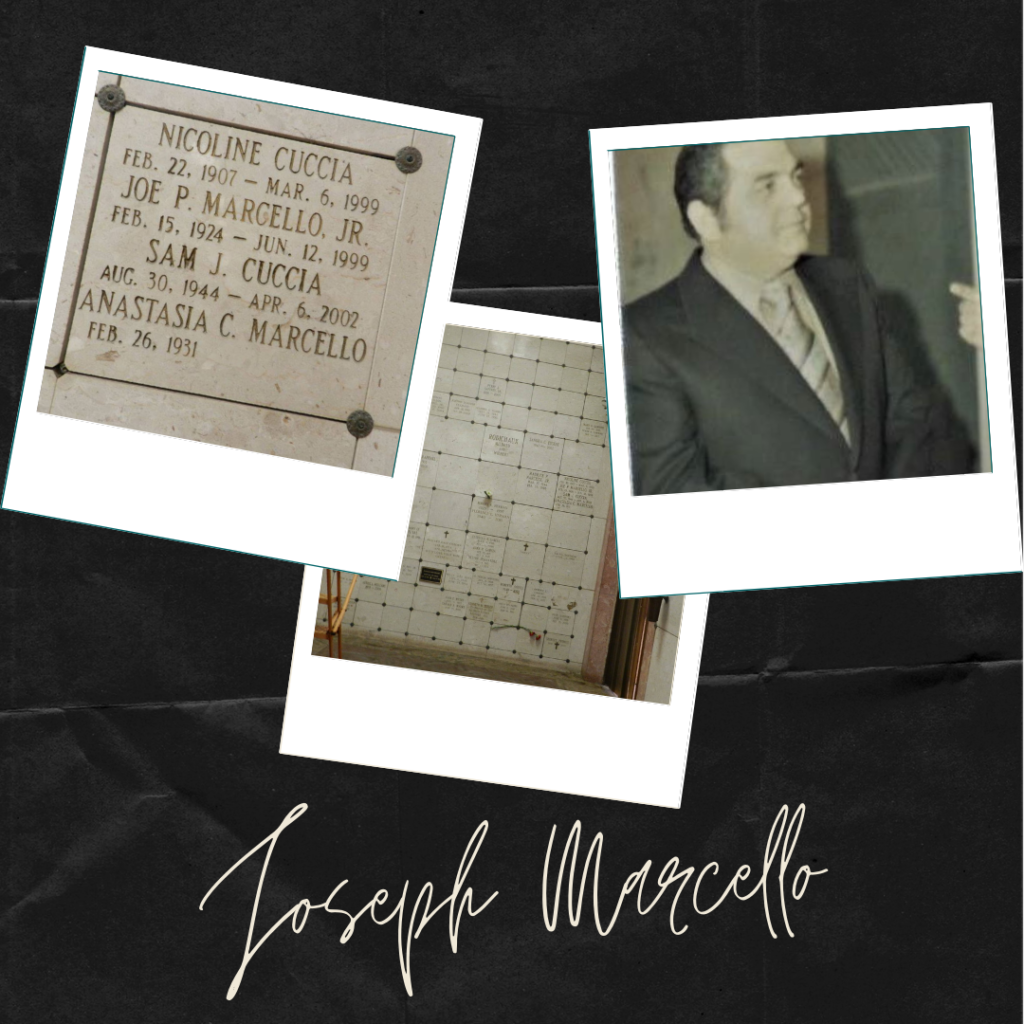 Salvadore Giglio
Originally one of the men arrested by Chief of Police David Hennessey in the May 1890 ambush of a wagon full of Matranga stevedores at the corner of Esplanade and Claiborne. Charges against him were dropped prior to the trial of the Provenzano faction.
Salvatore DiPiazza
Capo in the New Orleans Family, known for gambling, reportedly close to Carlos Marcello. Implicated in the conspiracy of the MLK assassination.
Family ties through marriage to the Tufaro family who, according to rumor, run the current NOLA Family.
Frank Liberto
New Orleans Family Soldier and figure in the Martin Luther King Jr. assassination. Liberto ran a business in Memphis and was allegedly overheard on a telephone call discussing payment for the assassination and for the recipient of the call to see his brother Salvadore in New Orleans for the money.
Carlo Quartararo
A connected French Quarter club owner who was once indicted for the murder of a patron of his club when he and a waitress slipped a mickey into his drink and the man died. Beating the charges in 1950 he later died in police lockup in 1954 under mysterious circumstances.
And to finish up this installment of Where New Orleans Buries it's Dead Mobsters we move a few miles outside of New Orleans to Chalmette Louisiana and the St. Bernard Cemetery.
David Ferrie
The familiar figure in the JFK assassination story made famous by Joe Pesci in Oliver Stones flick. Ferrie was found dead in his Broadmoor section of New Orleans apartment under mysterious circumstances. Ferrie's marker is just a plain Jane type of memorial to a man who is still largely mysterious.
So, hope ya'll enjoyed this.
For anyone planning a trip to the Crescent City and wants a tour feel free to contact me.