Somewhere in 1930's New York, a group of men, speaking in a language that sounded Italian – which if translated, would we understand its meaning? – Locked together in a secret ceremony. To welcome yet another new member of the family. But this is no Christening. It is a Sacramentum (solemn oath) to a family, not bonded by blood, but by: honor, loyalty and respect.
After Joseph 'Joe Cargo' Valachi swore the oath of Omertà, he became a made member in the Italian-American Mafia aka La Cosa Nostra.
Understandably so, Valachi has had a lot of negative statements made against his name in relation to the October '63 McClellan Hearings, such as: "first to break the code of Omertà", "Valachi's testimony led to the destruction of organised crime" and so on. But, was all as it seemed though? Especially when considering, with all the singing Valachi did at the time, following his performance, there were no prosecutions or indictments. Was Valachi providing a true account or a narrative provided to him by the authorities?
The year following the hearings – 1964 – Valachi was pressured by the Department of Justice (DoJ) to produce a written account of his time in the life, they wanted the information to fill in the gaps from the committee hearings. The DoJ, only expecting a few pages, received a manuscript from Valachi of over 1,000 pages. In 1965, the then US Attorney General, Nicholas Katzenbach gave permission for the public release of the manuscript. The task of editing it would fall to the journalist who broke the Valachi story in 'The Saturday Evening Post', Peter Maas. It was Katzenbach's hope that the book would assist law enforcement agencies and encourage others to rat. The Italian American newspaper 'Il Progresso' caught wind of the books intended publication and immediately denounced it, claiming, it would reinforce negative ethnic stereotypes. This then prompted the American Italian arm of the Anti-Defamation council to promote a national campaign against the book's publication. Eventually, on May 10, 1966 Attorney General Katzenbach filed a motion with the district court banning the publication of the book.
Maas did publish a book, titled 'The Valachi Papers', however, this was a very much watered-down version of the intended original, with the new book being based on interviews and the information gleaned personally from Valachi by Maas.
---
Join us at NCS, as we take a closer look at some of the main protagonists in the 1963, alleged, destruction of the Mafia.
Joseph 'Joe Cargo' Valachi began his La Cosa Nostra life as a soldier in the Reina family (later the Lucchese family) with Boss Gaetano Reina at the helm. In 1932 Valachi married Carmela Reina, the eldest daughter of Gaetano Reina. Reina was murdered for switching sides in the Castellammarese war – from Joe Masseria to Salvatore Maranzano – following Masseria's murder, Maranzano declared himself Capo di tutti capi, he employed Valachi as one of his bodyguards. It was a role that wasn't to last long, following Maranzano's death at the hands of Lucky Luciano et al. Valachi became a soldier in the newly named Luciano family. He stayed on as a soldier for Vito Genovese in 1957, after Vito become Boss of the Luciano family, renaming it the Genovese crime family. Valachi remained a soldier until he was sentenced to 15 to 20 years on drug offences in 1959, ending up in the same Atalanta prison as Vito Genovese, himself serving 15 years on a drugs charge. This was when the alleged 'Kiss of Death' took place, a kiss that Valachi in testimony said made him feel nervous and uncomfortable.
This is where the story begins.
Valachi suggests, that in receiving what he believed was an indication from Genovese of his impending doom, it made him fearful for his life. Out on exercise one day, he thought he would be attacked. A prisoner whom Valachi thought was a mobster, by the name of Joseph DiPalermo, sent to kill him. Valachi then alleges, he picked up an iron bar that had been left by contractors in the exercise yard, of a prison! and killed the man. A theory that was put forward was, in order to commute the death penalty, Valachi agreed to testify in return for a plea bargain and a life sentence. Another theory is that Valachi was angry at the Mafia, blamed them for the position he was in and wanted to exact revenge. Did the Feds have their ideal stooge?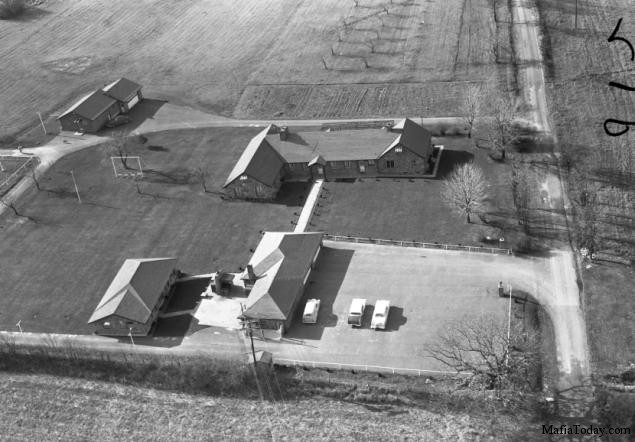 A lot has been said about the involvement Vito Genovese in the apparent demise of the American Mafia; Apalachin in 1957, where a 100 Mafiosi were arrested, including many bosses, yet, as far as I'm aware, only Paul Castellano, a year later, receiving a $2,000 fine, was the only victim, as such. I have always found it strange, that Genovese wanted the meeting held in Chicago, and that it was Stefano Magaddino who encouraged Genovese to choose Joseph Barbara's home in Apalachin. Which, according to reports, was already on the FBI radar, due to Carmine Galante being arrested leaving Barbara's home following an apparent meeting there in 1956. Six New York troopers who were sent under orders from someone within the Mafia, to bribe Galante out were arrested by local sheriff's and charged with bribery offenses. The Narcotics trial of 1959, in which known racist, and a man that would only personally work with Italians, Vito Genovese, met and worked with, Puerto Rican Nelson Cantellops on a heroin distribution and smuggling business, for which Genovese received 15 years, the last time he would also see freedom as a living man, dying on Valentine's Day 1969. Then we have Valachi and Genovese's' part in that. Obviously '59 saw an array of Mafia put away, but the two events, attached to the publicly reported demise of the Mafia, in contrast to the growth of the two largest families of the Italian-American five New York organised crime families, seemed somewhat overplayed. Is this because there was a different agenda at work?
I'd now like to take a closer look at J. Edgar Hoover (it's okay boss, in a metaphorical sense only). Although, if some rumors are to be believed, who knows what may visually turn up one day?
J. Edgar Hoover is infamous for many speculations around his life. However, one thing he is famous for is; being the first Director of the Federal Bureau of Investigations (FBI). In 1924, Hoover became Director of the forerunner to the FBI, the Bureau of Investigations and Hoover was paramount in the creation of the FBI eleven years later, in 1935. In the 47 years that Hoover was Director of the FBI – he stayed on till his death in 1972 – he amassed a huge amount of power!
Although the FBI wasn't formed until 1935, Hoover was still in charge of the Bureau of Investigations during the prohibition period to its end in 1933. By the start of the second world war, Hoover was firmly entrenched as the Director of the FBI, when on December 20, 1941 the French Ship, SS Normandie was transferred to the US Navy. Renamed USS Lafayette the former ocean liner was in dock being refitted to be used as a troop carrier, when on the afternoon of February 9, 1942, a fire started that soon spread, within an hour the fire had engulfed the top three upper levels. Efforts to bring the blaze under control looked to have been successful just as evening begun at 6pm, the darkness of winter made all the more by the dense, acrid smoke that hung thick in the air. However, due to an array of errors, and the American fire-brigade hoses not fitting the yet to be changed French hose connectors on the ship, the majority of water poured onto the fire had come from one side, causing the ship to list, this got progressively worse through the night, then, just after midnight, Rear Admiral Adolphus Andrews declared the ship abandoned.
Operation Underworld was launched by US Naval Intelligence in March 1942. However, this was not a military exercise against the Axis powers. Joseph 'Socks' Lanza, a member of the Luciano organized crime family – then later the Genovese family – and a handler in Lower Manhattan's Fulton Fish Market, was recruited by US Navy intelligence to give agents union cards, so that they could work undercover in the docks area. The docks employed a lot of immigrant Italians as longshoreman. The top brass of the American military, along with authorities were becoming increasingly concerned that pro-fascist Mussolini allies worked amongst the men. Lanza suggested that a certain Lucky Luciano – jailed six years previously – would be able to bring the dock workers under control.
There is much debate as to the Mafia's involvement with the Allies during World War II, including the successful invasion of Sicily by American and Allied forces. The American's achieved their invasion of Sicily plans within days of landing and with hardly a shot being fired. In contrast, it took the combined British and Canadian forces, three weeks to achieve their plans, to get around Mt. Etna and take Messina.
On the same day that war ended in Europe, with the unconditional surrender of the Germans on May 8, 1945, Lucky Luciano filed a motion for 'executive clemency'. Luciano, with still a substantial part of his jail term to serve, in a twist of fate had the original prosecutor Thomas E. Dewey, sign his pardon in January 1946. However, a part of the deal, which had been handled through Meyer Lansky, was that Lucky would be deported back to his homeland, Italy.
Hoover, who up until the November 14, 1957 Apalachin meeting – which saw 100 Mafiosi arrested at the home, in the grounds and surrounding areas of Joseph Barbara's home in Apalachin, New York – denied the very existence of the Mafia, once referring to the organised crime group as "bookmakers and gamblers" (Sifakis, C., 'The Mafia Encyclopedia'. New York: Facts on File p.127). J. Edgar Hoover had a reputation as a man that liked to have a bet on the horses himself, often sending an agent with $100 to place a bet on his behalf, more often than not, with the tip being passed on to Hoover by the 'Prime Minister', Frank Costello, it is said that no one became a judge in New York without Costello's say so.
There was a lot of activity from; 'the Prohibition – 1920 to 1933' – 'the Castellammarese War – which begun February 1930 and lasted to April 15, 1931' – through World War II and on to November 14th and the Apalachin meeting. Activities, which from 1931, involved the Mafia.
The Director of the FBI, and specifically J. Edgar Hoover, a man renowned to have exceeded the jurisdiction of the FBI on numerous occasions, a man known to amass secret files and to bully and threaten others, a man rumored to have an unhealthy gambling habit, a man who possibly led a secret life, as a homosexual lover with his deputy, dining partner, drinking partner and vacation companion, Clyde Tolson. Hoover, a man who was also, as was allegedly said by socialite Susan Rosenstiel to journalist Anthony Summers, seen engaging in cross-dressing, with other men, at 'special' events in the 1950s. I would suggest that, not only was Hoover fully aware of who Luciano, Lansky, Genovese, Siegel and Costello were, along with the other five families of New York, they and he had more history together than we will ever be made aware of.
Was the information that Valachi provided to the McClellan hearing, really the first time this information, with all its fancy charts, had become known?
Robert Kennedy began work with the Internal Security Section of the Criminal Division of the US Department of Justice in 1951, as a lawyer investigating suspected Russian agents. A few months later, in February 1952, Kennedy moved to New York and began work prosecuting fraud cases in New York's Eastern District. By the end of that year Kennedy was made assistant counsel of the US Senate Permanent Subcommittee on Investigations, a position he would resign from after only seven months. A full out, with FBI Director Hoover, would ensue in 1955 when Kennedy was back at the Senate Committee this time as Chief Counsel for the Democrats – who were in opposition at the time – Hoover had blocked Kennedy's request for a specific person's file, calling Kennedy "an arrogant whipper snapper".
In 1961, Robert Kennedy, following his brothers' successful presidential campaign the year before, became America's 64th Attorney General. The following has been reproduced with kind permission from our friends at the Mob Museum.
---
ROBERT KENNEDY SERVED AS CHIEF COUNSEL FOR THE U.S. SENATE'S RACKETS COMMITTEE AND THEN AS U.S. ATTORNEY GENERAL. IN BOTH CAPACITIES, HE WORKED TO CRACK DOWN ON ORGANIZED CRIME.
IN A LENGTHY MEMO TO HIS BROTHER PRESIDENT JOHN F. KENNEDY, DATED JANUARY 10, 1963, MEANT FOR PUBLICATION IN AMERICA'S SUNDAY NEWSPAPERS, ATTORNEY GENERAL ROBERT F. KENNEDY REPORTED ON THE PROGRESS ON WHAT HE CONSIDERED THE HIGHEST PRIORITY OF FEDERAL LAW ENFORCEMENT:
"DEAR MR. PRESIDENT: THE ADMINISTRATION DURING 1962 GREATLY EXPANDED ITS COORDINATED DRIVE AGAINST ORGANIZED CRIME AND RACKETEERING."
ROBERT KENNEDY TOUTED THE FACT THAT PROSECUTIONS FOR RACKETEERING BY HIS ORGANIZED CRIME SECTION IN THE JUSTICE DEPARTMENT ROSE BY 300 PERCENT ABOVE 1961 AND CONVICTIONS OF ORGANIZED CRIMINALS GREW BY 350 PERCENT. HE CELEBRATED THE COORDINATION OF THE FBI, SECRET SERVICE, IRS AND 23 OTHER FEDERAL LAW ENFORCEMENT AGENCIES THAT HELPED HIM COMPILE INFORMATION ON THE NATION'S 1,100 TOP RACKETEERS. HE NOTED THERE WERE MORE THAN 60 FEDERAL LAWYERS ON HIS SECTION TEAM, UP FROM 17 IN 1961. FIVE OF THE ADMINISTRATION'S ANTI-RACKETEERING BILLS PUSHED BY RFK AND PASSED INTO LAW BY CONGRESS IN 1961 HAD LED THE FBI TO PURSUE 852 NEW CASES AGAINST HOODLUMS AND GRAND JURIES TO INDICT 134 DEFENDANTS IN FEDERAL COURTS. THE NUMBER OF SUSPECTED HOODS INDICTED REACHED 350 IN 1962, COMPARED WITH 49 IN 1960. AND RECENT CONVICTIONS WON BY KENNEDY'S PROSECUTORS INCLUDED MOBSTERS ANTHONY "TONY DUCKS" CARELLO, CARMINE GALANTE AND JOHN ORMENTO, FRANKIE CARBO, FRANK "BLINKY" PALERMO AND ALFRED SICA.
---
It can be clearly seen from Kennedy's figures to his brother – dated some ten months before Valachi's testimony at the McClellan hearings in October 1963 – that 1962 saw a huge jump in the numbers of 'hoods' being indicted. Also, in 1962, we saw the coming together of two families when Tommy Gambino – son of Gambino crime family Boss Don Carlo – married the daughter of Lucchese crime family Boss, Tommy Lucchese. It is alleged that Gambino gave Lucchese a $30,000 'welcome gift'. In return Lucchese brought Gambino in on his airport rackets. Although the title of Capo di tutti capi was no longer accepted by the Italian-American Mafia. Don Carlo did not need that title to convey his power within the Mafia as he held a position, only once held before by Charles 'Lucky' Luciano, Boss of their respective family whilst being head of the commission. The growth of the Gambino organised crime family, under Don Carlo Gambino, in the 1960's, was incredible, with a membership rumoured to be anywhere between 300 and 800, with over 30 crews, they were bringing in over $500,000,000-a-year as the Gambino family became the wealthiest, most influential and powerful crime family in America. Not bad considering Valachi brought about the destruction of the Mafia. Valachi, who, allegedly, decimated them and their organisation in October 1963.
Valachi didn't commit his murder in prison – which led to Valachi becoming a rat – until June 22, 1962. It would appear that the Feds had been receiving information from other quarters, and not just any information. To be allowed to go on and commit over 25 murders – during a three-decade period of being an informant to the FBI after being arrested in March 1962 for armed robbery – Gregory Scarpa Snr – ruthless hitman and Capo for the Colombo crime family – must have provided numero uno information and un sacco di cose.
Therefore, I suggest that Joseph Valachi, was in fact, used at the McClellan hearings to narrate a directive supplied to him by the Feds with information provided to them by Scarpa, in order to keep the sudden influx of information and Scarpa's role in uncovering the inner workings of La Cosa Nostra secret, and more doubt against the name and reputation of Vito Genovese!
Latest posts by David Breakspear
(see all)